Workshop on eTaal and eGov App Store Held at SHIMLA, Himachal Pradesh
Ajay Singh Chahal, Himachal Pradesh
ajay[dot]chahal[at]nic[dot]in
|
Oct 12, 2015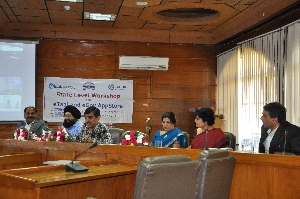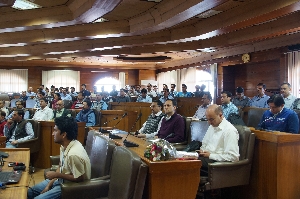 A one day workshop on eTaal and eGovApp Store was held on 5th October 2015 at Shimla for the State Government and NIC Officers. Dr. Shefali S Dash, DDG NIC, Sh. IPS Sethi, Sr. TD and Mrs. Mala Mittal, Sr. TD visited Shimla and interacted with the participants on the eTaal and eGovApp Store. Sh. Sanjeev Gupta, IAS and Additional Chief Secretary (Information Technology) to the Government of Himachal Pradesh delivered the keynote address. More than 100 officials (including DIOs/ADIOs on VC) participated in the event.
The focus of the Workshop was to increase the participation of Departments of the State on the eTaal portal and to make aware the officials about the importance of National eGov App Store with the objective to replicate the available application in place of re-developing these.
Dr. Shefali Dash, DDG NIC discussed in details about the utility of both eTaal (Electronic Transactions Aggregation and Analysis Layer at http://etaal.gov.in) and eGov App Store (Http://apps.nic.in). Sh. IPS Sethi, Sr. TD presented the over-all presence of Himachal Pradesh on the eTaal website and informed that Himachal Pradesh at 13th position in over-all transactions and is better placed at 4th position based on the number of transactions per 100 of population as Himachal has lesser population count. The "Quantility" concept and parameters were presented to the participants for their views.
Sh. Sanjeev Gupta, Additional Chief Secretary, Himachal Pradesh, in his keynote address stressed upon focusing on the USSD technology due to less than 7% penetration of Smart Phones in the country and the need to develop a solution for auto-conversion of existing websites into mobile friendly versions.
Dr. Shefali Dash, DDG also discussed the possibility of developing mobile apps for wool-farmers of the State, subject to the feasibility of Internet availability on higher altitudes. Mrs. Mala Mittal, Sr. TD and Sh. Deepak Mittal, Scientist-C explained the functionality of the National eGov App Store and how users can benefit by re-using the Applications already available on the eGov App Store.
The NIC HP officers made presentations on about 6 projects for their evaluation and consideration for conversion into Products, so that these could be replicated in other States. The participants queries were during the Workshop were also  addressed.