Jeevan Pramaan Camp for ex-servicemen held at Kohima on 12-13 May 2015
Novotsono, Nagaland
novotsono[dot]natso[at]nic[dot]in
|
May 15, 2015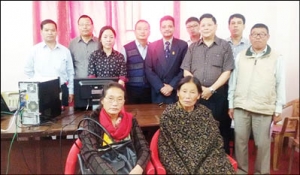 Jeevan Pramaan Camp for the ex-servicemen of Kohima District was held on 12th and 13th May, 2015 at the DC Office Complex, Kohima.

The event was organised by Rajya Sainik Board led by Director of Sainik Welfare and Resettlement Brig. K. K. Roy Choudhary, SM, VSM (Retd.)  and NIC Nagaland State Centre co-ordinated by Shri. Lanusungkum Aier, PSA and Ms. Novotsono Natso, Scientific Officer
Around 70 ex-servicemen of Kohima District  holding Aadhaar Cards have been successfully enrolled for Digital Life Certificate.

The camp was held at the NIC Kohima District Centre with the active technical support of Shri. J.G. Lorin, DIO NIC, Kohima District Centre and his team.