National eGovernance Award for Himachal Pradesh Police Web-portal
Ajay Singh Chahal, Himachal Pradesh
ajay[dot]chahal[at]nic[dot]in
|
Feb 20, 2009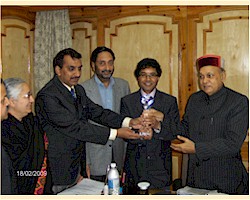 "The HIMPOL project of Himachal Pradesh Police designed and developed by the NIC has won the Bronze Icon Award under Outstanding Performance in Citizen Centric Delivery category in the 12th eGovernance Conference at Goa on 12th and 13th of February 2009. The IG, Police and SIO, NIC HP received the Award.
Prof. Prem Kumar Dhumal, Chief Minister, Himachal Pradesh presented the Award certificates to the concerned officials in a simple function at Shimla.
HIMPOL(Himachal Pradesh Police Web Portal) is a Web-based software that may be accessed globally. The software has been designed & developed by National Informatics Centre (NIC) Himachal Pradesh using latest technology. The major online services available on the portal include Online Complaints/Information/FIR, Online Traffic Challan System and Content Management System (CMS).
The portal is available at http://hppolice.nic.in and it has major administrative impact in the functioning of the Police Department. There is transparency in the functioning and better monitoring of activities. Besides increasing efficiency, the gaps have been eliminated. It has social impact too because the quality of public services has increased which are available from the home of the citizens. The procedures have been simplified and available round the clock from any location. "