Dr. APJ Abdul Kalam praises District Hamirpur Himachal Pradesh website
Ajay Singh Chahal, Himachal Pradesh
ajay[dot]chahal[at]nic[dot]in
|
Jan 15, 2009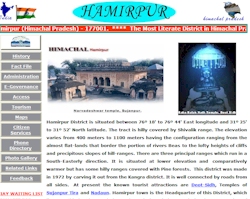 "Dr. APJ Abdul Kalam, top scientist and former President of India was the Chief Guest on the Annual Convocation function at National Institute of Technology, Hamirpur, Himachal Pradesh during the last week.
In his convocational address, Dr. APJ Abdul Kalam specifically mentioned that before coming to Hamirpur, he was not much aware of the District Hamirpur and hence he searched the District website at http://hphamirpur.nic.in. He specifically praised the updated content available on the website of the District and said that he gathered much of the information about Hamirpur from this website. He also said that he was very happy to know that Hamirpur had the highest literacy rate in the country.
This news was published in the local newspapers as boxed item because generally it is the other way round when most of the websites are criticised for not having updated content.
The District Administration headed by Deputy Commissioner, Sh. Abhishek Jain, IAS gets the credit for the keeping the website content updated while the DIO, NIC Sh. Vinod Garg and his team needs to be lauded for developing and maintaining the District Hamirpur website. "