Interoperable Criminal Justice System of Himachal Pradesh wins CSI Nihilent eGovernance Award of Excellence
Ajay Singh Chahal, Himachal Pradesh
ajay[dot]chahal[at]nic[dot]in
|
Dec 18, 2013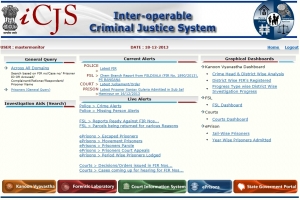 The Interoperable Criminal Justice System-iCJS has been conferred with the CSI Nihilent e-Governance Award of Excellence in the 48th CSI Convention at Visakhapatnam on 14th December 2013. The Award was received by Sh. S.R. Mardi IPS, Additional Director General of Prisons, Himachal Pradesh, Dr. Saurabh Gupta, State Informatics Officer, NIC Himachal Pradesh and Sh. Ajay Singh Chahal, Sr. TD.

The awards were presented by Sh. J. Satyanarayana, Secretary DeitY, GoI and Professor S.V. Raghavan National President CSI and Scientific Secretary to Principal Scientific Advisor, Government of India.

The Interoperable Criminal Justice System has been designed and developed by NIC Himachal Pradesh for speedy Justice by facilitating the data-exchange between the Courts, Police, Jails and the Forensic Labs. To ensure standardization and replicability of the iCJS across the country, standard SW applications developed and implemented at the National level were used at the core level. The Common Integrated Police Application- CIPA already implemented in all Police Stations of Himachal Pradesh was enhanced by web-enabling it and renaming as Kanoon Vyavastha. A number of graphical Dashboard drill-down reports have been added.

The standard ePrisons software application for Prisons was implemented in 14 State Prisons in a mission mode as this data was very relevant to the iCJS software for speedy justice delivery. As there was no software for the State Forensic Laboratories, a new SW named eFSL has been developed locally and integrated with the Kanoon Vyavastha software of HP Police. Now all inter-action between Police Stations and 3 Forensic Laboratories in the State is online and reports are made available instantly to speed up the investigation process.

The advantage of iCJS is that all the stakeholders have online and instant access to data available in different software applications, which reduces the time, normally consumed in manual exchange of documents amongst related departments. The ultimate objective has been the speedier delivery of justice to the common man by interlinking related Justice Delivery systems and improving investigation quality. The other benefits include doing away with the exchange of paper based information amongst the stakeholders and utilization of digitized data of other domains directly in individual SW applications.