Haryana: Workshop cum training Programme for Secretary,RTAs and staff of Regional Transport Authorities
Poonam Gupta, Haryana
poonam[dot]g[at]nic[dot]in
|
Jun 7, 2013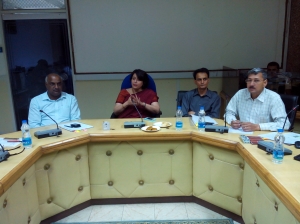 A Workshop cum training Programme was conducted for Secretary, RTAs and staff of Regional Transport Authorities of Haryana on 7th May 2013.
The programme was inaugurated by Smt. Sumita Misra, IAS, Transport Commissioner, Haryana.She addressed the officers and emphasized upon taking all the benefits of computerization process to streamline the work of Registration and Licensing Authorities in Haryana. She suggested Secretaries, Regional Transport Authorities (Secy. RTAs) to personally start using VAHAN, SARATHI and online Haryana Portal and National Portal to monitor and keep themselves updated.
Sh. Bhupinder Singh, HCS, Additional Transport Commissioner, welcomed the participants and briefed about the new initiatives in pipeline going to be implemented in near future. Sh. A. S. Mann, Additional Transport Commissioner suggested Secretaries to encourage Transporters to pay Road Tax Online through Haryana State Transport Portal. Sh.Sanjay Sharma, Scientist-D, Transport Project Co-ordinator, NIC-Haryana apprised the participants about the computerization project, concept of State and National Registersand gave a presentation about all the functionalities of VAHAN, SARATHI and online informational and transactional services of National and State Portals. New features of High Security Registration Plate (HSRP) interface module and sending SMS to the citizen on receipt of fee and approval of service request was elaborated in detail.
The programme was concluded by Sh. A. S. Mann, Additional Transport Commissioner, Haryana after open discussion session with the participants.