NIC Odisha bags e-Maharashtra Award for e-Nijukti
A. K. Hota, Odisha
ak[dot]hota[at]nic[dot]in
|
May 25, 2013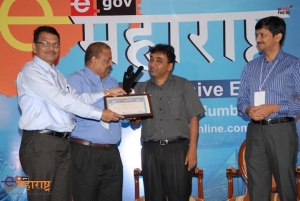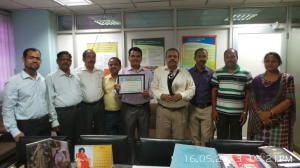 The  'e-Nijukti' – online,   captures unemployed youths,  impart skill development training  and provide  jobs by Odisha State Employment Mission thru ICT.
(http://www.empmissionodisha.gov.in) developed by National Informatics Center, Odisha State Unit with the support from Labour Informatics Division, NIC(HQ), New Delhi bags e-Maharashtra Award-2013 as Excellence Award, Best Government to Citizen(G2C) Initiative of the year. Thanks to the proactive initiative taken by  Govt of Odisha to help out young and unemployed youths to get jobs  as well as  make the State and District  Administration transparent. The IT savvy Commissioner-Cum-Secretary Sri Chandrasekhar Kumar, IAS  and Commissioner-cum-Director Sri Hemant Sharma, IAS  are very keen in implementing this project in Odisha which was recently highly appreciated as one of the unique model  of the Country working for providing jobs to unemployed youths.
The award was received by Sri S. K. Panda, Dy. Director General and Dr R. N. Behera, Sr. Technical Director of NIC, Odisha State Centre in a  grand ceremony organised  at Hotel Taj, Mumbai on dt-9.05.2013.
Government to Citizens (G2C) Initiative of the Year Award of e-Maharashtra recognizes those government departments who have used ICT tools to provide and improve government services, transactions and interactions with citizens. e-Nijukti of Odisha is the only project which bags the award outside the State of Maharashtra throughout the Country.
e-Nijukti of Government of Odisha initiative is taken to increase the job opportunity and skill development through use of Information and Communication Technology(ICT) which plays a pivotal role for instituting effective e-Governance, and  essentially bridges the gap between government and citizens. Lower qualified youths are captured online through this system, imparted skill development training and suitably absorbed by job providers is the basic motto of this project.
With National Informatics Centre as Knowledge Partner, this initiative is taken up by ETET Department Government of Odisha to bring transparency in processes involved in Employment Mission activities and to prevent leakage of public money in form of reimbursement for fake candidate's training and their placement.