SMS Based Alert Application for the Job Fair
A. K. Hota, Odisha
ak[dot]hota[at]nic[dot]in
|
Feb 8, 2013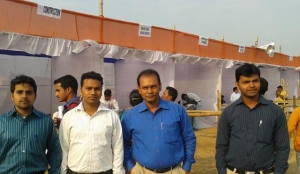 The District Administration of Puri, Odisha was organizing a Job Fair on 28th and 29th of January 2013. The Objective of the fair was to unite Jobseekers and the Job providers in a single platform so that jobseekers can choose the best job provider based on their Qualification, Experience ,  ability and Vice versa.
            There were more than 10000 Job seekers in the district who have registered at the District Employment Exchange.  As per the decision of the District Administration the registered Job Seekers are to be intimated about the fair within a short time span. It was therefore planned to take the help of   ICT solution and the work was entrusted to NIC District Unit, Puri.  
With the Technical Support of NIC Odisha State Unit Bhubaneswar, one SMS Alert Interface has been developed for integration with the database of registered applicants.  SMS alert regarding the Date, Time and Venue etc. of the Job Fair has been sent to the registered Job Seekers. Around 50 Officials of district administration, who were also involved in organizing this fair, were also alerted through this SMS based solution.
            Around 20 Employer farms like Odisha Diesel, G4 Security, Ambuja Spinning Mill, Eureka Forbes, 108Ambulance (NRHM), L&T etc. participated in the fair. Out of 8000 participating candidates around 600 candidates got selected by the various companies. Around 15 PIA (Programme Implementing Agencies) like SKY Lark, Empower Pragati, Shree Sahaja, CIDC etc. have also participated and they selected around 1400 candidates to take training in their respective organizations.
The Collector & District Magistrate, Puri, Shri Naba Kumar Nayak, I.A.S, appreciated the effort of NIC and very much satisfied with the work of DIO for developing the database and alerting such a large number of candidates within a short time span.