ICT Facilities provided, during visit of Her Excellency President of India to Karnal
Poonam Gupta, Haryana
poonam[dot]g[at]nic[dot]in
|
Jul 30, 2010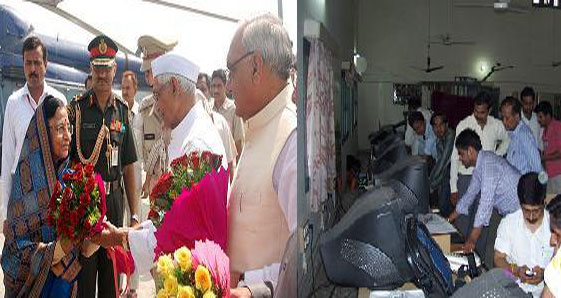 On July 24, 2010, Her Excellency President of India, Smt. Pratibha Devi Singh Patil visited Karnal (Haryana), in relation to Golden Jubilee Foundation Day Celebration of the Sainik School, Kunjpura, Karnal.
Shri Jagannath Pahadia, H.E. the Governor of Haryana, Shri. Bhupinder Singh Hooda, Hon'ble Chief Minister, Haryana and other dignitaries received Her Excellency President of India, at the Aviation Club, Karnal at 10:10 AM.
NIC was entrusted for making arrangements of ICT facilities at four locations. They were Aviation Club, Grey Cottage, Safe House and VVIP lounge. Computers with Internet & printing facilities were provided at all of these locations along with computer professionals. A media center was also established in the gymnasium hall (near the venue) to facilitate national & state media persons. A comprehensive LAN with broadband connectivity facility for printing, scanning, fax, photocopiers etc were set up for the function.
DIO & DIA of NIC-Karnal arranged for all above equipments and coordinated for requisition, collection, testing, installation and smooth functioning of these services at Media Centre and all four sites of ICT facilities. 24 computer professionals were trained and deputed for ensuring smooth delivery of ICT services at all points.