Honourable Governor of Assam launches Raj Bhawan website
Kavita Barkakoty, Assam
asm-kavita[at]nic[dot]in
|
Aug 18, 2023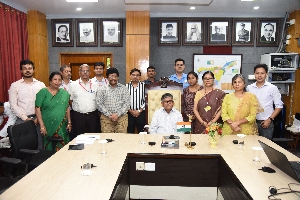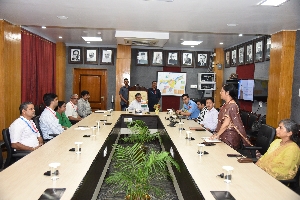 On August 14th, 2023, a significant milestone was achieved as the Hon'ble Governor of Assam, Shri Gulab Chand Kataria, unveiled the official website of Raj Bhavan, Assam.
The launch ceremony, graced by the presence of Shri S. S Meenakshi Sundaram, IAS, Commissioner & Secretary to the Governor, Smt. Kabita Roy Das, DDG and SIO, NIC, Assam and other distinguished officials, marked a significant leap towards enhancing transparency, accessibility, and communication in the realm of governance.
The website is built under the ePrastuti Framework, thoughtfully designed and executed by the National Informatics Centre (NIC), Assam. The framework's focus on efficiency, user-friendliness, and inclusivity perfectly aligns with the vision of a modern, responsive government, in tune with the digital age. The Hon'ble Governor of Assam actively contributed valuable insights and suggestions to enrich the website's content and usability further.
ePrastuti developed in compliance with the Guidelines for Indian Government websites(GIGW) is a standardized website framework that unifies the online presence of various government entities. The website is responsive and device-friendly which enables citizens to access the websites seamlessly through various devices. The incorporation of advanced search features is a significant step forward in ensuring that citizens can effortlessly access the information they seek. Furthermore, the inclusion of bilingual facilities on the website underscores the commitment to inclusivity and accessibility. With 242 websites of the Government of Assam now operating under the ePrastuti framework, this initiative stands as a cornerstone of efficient information dissemination, accessibility, and citizen engagement.
Shri S. S Meenakshi Sundaram expressed heartfelt gratitude to NIC, Assam for their relentless dedication and expertise in bringing this endeavor to fruition. The Commissioner & Secretary recognized the website's potential to streamline information dissemination, promote citizen engagement, and foster a more participatory governance model.
Smt. Kabita Roy Das, DDG and SIO, NIC, Assam, delivered a compelling address at the launch ceremony, highlighting the pivotal role a website plays in facilitating information flow among citizens. In an era where digital channels have become essential components of communication, the website of Raj Bhavan, Assam, emerges as a dynamic hub for citizens to access official updates, notifications, and engage with the state's administrative affairs.
With the inauguration of the Raj Bhavan Assam's official website, a new chapter unfolds in the narrative of governance, one marked by innovation, collaboration, and the shared aspiration of building a stronger, more inclusive Assam.