Honble CM Assam launches Medical Assets Management System portal
Kavita Barkakoty, Assam
asm-kavita[at]nic[dot]in
|
Jun 27, 2023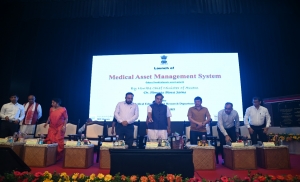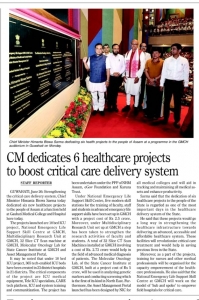 Dr. Himanta Biswa Sarma, Honble Chief Minister of Assam  launched the   "Asset Management System" https://medicalassets.assam.gov.in    portal developed by National Informatics Centre (NIC), Assam for Medical Education & Research Department (MERD), Govt. of Assam on 26th June, 2023 at an event held at the Gauhati Medical College & Hospital (GMCH) Auditorium. The event was attended by Shri Keshab Mahanta, Hon'ble Minister, Health & Family Welfare, Assam, senior officers of Health & FW, MERD, Department, Govt. of Assam, officers of NIC Assam, Doctors & large nos. of students of GMCH.
Medical Asset Management System (MED-AMS) is a comprehensive solution designed for the Medical Education and Research Department (MERD), Govt. of Assam to streamline the asset management processes for medical institutions. MED-AMS automates and centralizes the management of medical equipment, supplies, and other assets, allowing for improved accuracy, efficiency, and transparency.
With MED-AMS, medical institutions can keep track of their assets from procurement to disposal, ensuring proper maintenance and utilization. By using MED-AMS, medical institutions can increase the longevity of their assets, reduce costs, and improve the quality of healthcare services provided to patients. This innovative web portal aims to provide efficient and timely asset management, offering a transparent, user-friendly, and intuitive interface. The application ensures the security of the department's data, allowing access only through proper authentication, thereby facilitating easy data maintenance from anywhere and at any time.
NIC Assam Team:
Smt. Kabita Roy Das, DDG & SIO Assam
Smt. Kavita Barkakoty, ASIO States & Scientist F
Smt. Hiranmayee Goswami, ASIO Districts & Scientist F
Sh. Ajit Bhattacharyya, Scientist E
Sh Debojyoti Sarkar, STA-A
Sh. Dhrubajyoti Saikia, Programmer
Smt. Priya Subholakhsmi Hazarika, Programmer
************