A 31-Member Delegation from 27 Countries visits NIC for One-Day Symposium on Open Data Policy and Initiatives
Hemendra Kumar Saini, Delhi
hemendra[dot]saini[at]nic[dot]in
|
Dec 12, 2022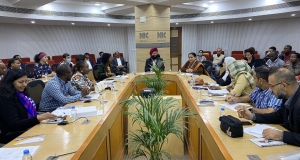 On Monday, 12 December 2022, a delegation of 31 Government Officials hailing from 27 Countries paid a visit to NIC Headquarters, New Delhi for one-day symposium on open data policy and initiatives. During the event, NIC Officers briefed them on Digital Platform and Products of NIC and held informative sessions on "Government Open Data Policy & Initiatives' ' and "Data Driven Governance through Analytics".
Shri Inder Pal Singh Sethi, DDG, NIC, presided over the sessions and set the agenda for the discussion. He provided an update to the delegation on the state of the Data-Driven Economy. He also discussed NIC's support to Data Analytics and Data Visualisation in the Government and role in ensuring meaningful consumption of insights towards data driven decision-making.
Smt. Alka Mishra, DDG, NIC, then gave a presentation on Open Government Data (OGD) Ecosystem, including its challenges and future plans. OGD assists government agencies in publishing their datasets in open formats for free public use. OGD is available as Software as a Service (SaaS) and serves as a connecting link for Government, Citizens, and Communities in the country to create an Open Data Ecosystem. She also briefed how to represent this vast amount of data in meaningful and easy to understand visualisation, so that it can reach a wider audience, and allow them to make informed decisions.