CSI Award of Excellence for OxyCare Management Information System (OCMIS)
Ajay Singh Chahal, Himachal Pradesh
ajay[dot]chahal[at]nic[dot]in
|
Apr 27, 2022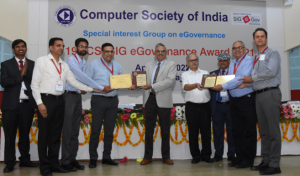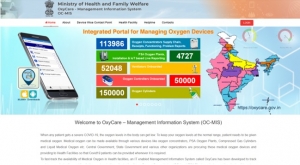 The OxyCare Management Information System (OCMIS), developed by NIC Himachal Pradesh for the Ministry of Health and Family Welfare Government of India has been awarded the Award of Excellence by CSI SIG eGovernance Awards 2021 under Project Category. The Award has been presented by Hon'ble Mr. Justice Ajit Singh, High Court of Judicature at Allahabad and Prof. R.S. Verma, Director, MNNIT, Allahabad to MoHFW, GoI and NIC on 23rd April 2022 at Prayagraj, Uttar Pradesh.
Sh. Vishal Chauhan, Joint Secretary, MoHFW, Sh. Sunil Kumar, DDG, NIC Hqrs, Sh. Daljeet Singh Rana, TD, Sh. Shailender Kaushal, TD and Sh. Vinod Garg, TD from NIC Himachal Pradesh received the Award of Excellence.
The main objective of OxyCare is to ensure the timely delivery, proper installation at the last level Health Facility across India up to CHC and Wellness Centre and monitor the functioning of Oxygen Concentrators, Ventilators, PSA Oxygen Plants, Cylinders, OCCs. This data is available in the portal in the form role-based dashboard at the PMO, Ministry and State, District Level. While the delivery, reporting, monitoring is done through the web-based portal, the receipt of equipment is done through an associated mobile app developed for the Health Facilities. The problem reporting and annual maintenance contracts are also monitored through this eco-system.
The OxyCare mobile app is available on both Android and iOS platforms and uses Secure QR Code to receive only correct equipment since the Secure QR code cannot be read by other Apps. For monitoring of PSA Oxygen Plants in big hospital, IOT based data collection is done and real time reporting through live dials is done for higher officials. A IOT card with SIM is installed in these PSA plants.
The software has been developed by NIC Himachal Pradesh in a very short time during the second wave of Covid19 pandemic to meet the oxygen requirements in the country and monitor the functioning of these equipment. Many NIC HP officers contributed in the development of this software and include Sh. Sandeep Sood, STD, Sh. Sanjay Kumar, STD, Sh. Sanjay Sharma, STD, Sh. Vijay Kumar Gupta, STD, Sh. Daljeet Singh Rana, TD, Sh. Sanjay Kumar, TD, Sh. Ashish Sharma, Scientist-C, Sh. Mangal Singh, Scientist-C, Sh. Mukesh Kumar, Scientist-C, Sh. Sarvjeet Kumar, Scientist-B, supported by Senior Developers. The software has been implemented in all States and UTs of India covering multiple oxygen devices.