Inauguration of Online FSL (Forensic Science Laboratory) for Police by DGP Assam
Kavita Barkakoty, Assam
asm-kavita[at]nic[dot]in
|
Mar 31, 2022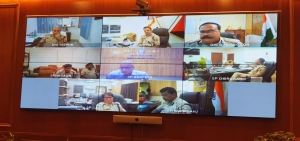 Guwahati 29 March 2022: The FSL MIS in eFSL Application of the Interoperable Criminal Justice System (ICJS) was inaugurated by Shri Bhaskar Jyoti Mahanta, IPS, Director General of Police Assam in a function held in the Conference Hall of Police HQ, Guwahati today (29-03-2022). Addl SP's of Districts are provided authority to download such reports for the districts for further availability to the Police Stations concerned of the district. Police can download FSL reports from eFSL application as soon as the reports are uploaded by FSL. This will save lot of time in availability of the reports and also eliminate other reasons of delay.
Assam is the first state in the country to enable the facility. This has its roots to the two-day conference of SPs held at Duliajan in Dibrugarh in January 2022 where Hon'ble Assam Chief Minister emphasised the importance of such facility.
Police officials appreciated the security features made available in the facility in the form of OTP to mobile and e-mail and also OTP based password for opening downloaded reports. This security features are put in place by the Forensic Team of ICJS. The function was attended by ADGP(CID), IGP(Admin), AIGP(Admin) other officials from Police, NIC Officials and officials from Directorate of State Forensic.
DGP and other officials appreciated NIC team of Sh.Diganta Barman, STD & HoG, Sh.Sumitav Saikia, STD & HoD and NIC for providing the facility under eFSL . DGP expressed his gratitude to NIC and expressed more collaborative ventures with NIC.