Assam CM launches 10 more online Contactless Vahan and Sarathi Services
Kavita Barkakoty, Assam
asm-kavita[at]nic[dot]in
|
Feb 21, 2022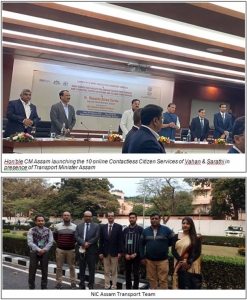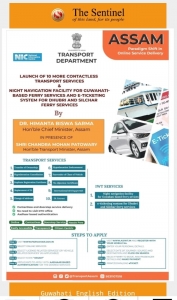 Guwahati, February 19, 2022: Assam Chief Minister Dr Himanta Biswa Sarma publicly launched ten more online Contactless Citizen Services on February 19, 2022 in the presence of Transport Minister Shri Chandra Mohan Patowary. With these 10 services, a total of 13 high-utility Contactless Citizen Services are now operational in Assam, and include services for Learner License,  Duplicate RC, Transfer of Ownership, Hypothecation Addition, Hypothecation Cancellation, Change of Address in RC, No Objection Certificate in Vahan, Renewal of DL, Duplicate DL, International Driving Permit, Surrender of COV, DL Extract and Replacement of DL.
In his speech on the occasion, the Chief Minister pointed out how the three contactless services launched previously in September and October 2021 had resulted in the reduction of almost 9 lakh footfalls in the District Transport Offices (DTOs) of Assam, and had contributed significantly to the surge in revenue collection by the Department in spite of the Covid-19 situation.
The Chief Minister who gets keenly involved in all processes, offered some highly significant insights into how the online Contactless Citizen Services of Vahan and Sarathi could be made more effective. He suggested that all online validation and approvals of applications should not be directed only to the DTO of origin but should be randomly assigned even to other DTOs depending on the current workload of the DTOs. This would result not only in more uniform distribution of work and speed up the whole process, but would also eliminate any intervention by middlemen as it would not be known which DTO the application would be referred to by the system for validation and approval.
The Chief Minister also suggested that online approvals for NoC for RC and Change of Address processes could be done away with as the applicant would already be authenticated by Aadhaaar. He also wanted that new registrations at dealerships be completed without the intervention of DTOs.
The Chief Minister thanked NIC for enabling technical innovations which have brought about a paradigm shift in services delivery to citizens. After the event the Transport Minister of Assam invited senior officials of NIC Assam to a separate meeting to thank them personally and convey the confidence of the Chief Minister and himself on NIC. He impressed upon the officials to enable implementation of all other contactless citizen services and the suggestions given by the Chief Minister.