Hon'ble Chief Justice, Himachal Pradesh High Court Inaugurates Virtual Court for Shimla District
Ajay Singh Chahal, Himachal Pradesh
ajay[dot]chahal[at]nic[dot]in
|
Jan 5, 2022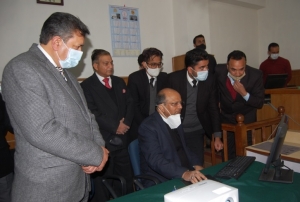 Justice Mohammad Rafiq, Hon'ble Chief Justice of Himachal Pradesh High Court inaugurated the Virtual Court for Shimla district on 30 December 2021 in an august ceremony in District Courts Complex, Shimla. Mrs Justice Sabina, Mr Justice Tarlok Singh Chauhan, Mr Justice Vivek Singh Thakur, Mr Justice Ajay Mohan Goel, Mr Justice Sandeep Sharma, Mr. Justice C.B. Barowalia, Ms. Justice Jyotsna Rewal Dua and Mr Justice Satyen Vaidya, Judges Himachal Pradesh High Court were present on this occasion.
Virtual Courts at https://vcourts.gov.in is a leap in eCommittee's attempts to facilitate judicial services to general public. The system brings the court at home – allowing public to access case details, pay fine and close case, all from home. The online service is accessible from all types of devices with internet connection.
Virtual Courts is truly online court- completely eliminating the need for physical presence of litigant and judge in the court. The system has provided several benefits including noticeable drop in pendency of cases, reduced resource requirement and comfort of working at convenient time and location.
The solution is developed by National Informatics Centre and integrated with Vahan and Saarthi data. Presently, it is being implemented in Shimla District on pilot basis. Sh. Ashwani Kumar, Scientist-D and In-charge at HP High Court provided the required technical support, while NIC Transport team assisted in the integration part.