Hon'ble Prime Minister Virtually Inaugurates 82nd All India Presiding Officers Conference at HP Vidhan Sabha
Ajay Singh Chahal, Himachal Pradesh
ajay[dot]chahal[at]nic[dot]in
|
Nov 30, 2021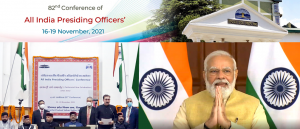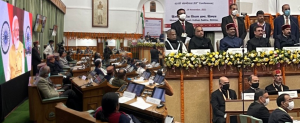 Sh. Narendra Modi, Hon'ble Prime Minister of India, virtually inaugurated the 82nd All India Presiding Officers Conference and 58th Conference of Secretaries of Legislative Bodies in India, on 17th November 2021. These Conferences were organized at Himachal Pradesh Vishan Sabha, Shimla from 16 to 19 November 2021 to commemorate the Centennial Year of the Conference as the first All India Presiding Officers Conference was held at Shimla in the year 1921.
Sh. Om Birla, Hon'ble Speaker of Lok Sabha, Sh. Jai Ram Thakur, Hon'ble Chief Minister, HP, Sh. Harivanash, Hon'ble Deputy Chairman of Rajya Sabha, Sh. Vipin Singh Parmar, Hon'ble Speaker of HP Vidhan Sabha, Presiding Officers of all the State Legislatures attended the inaugural function. The function was arranged in the historic Assembly Hall of HP Vidhan Sabha, Shimla. The Hon'ble Prime Minister addressed the dignitaries through NIC Video Conferencing.
Sh. Sandeep Kumar, TD NIC, HP Vidhan Sabha Centre was entrusted the task of making VC arrangements for the virtual address of the Hon'ble Prime Minister of India as well as providing necessary technical support to the Lok Sabh Secretariat and delegates during the Conference. A software was developed by NIC, HP Vidhan Sabha Centre to manage the arrangements made for the delegates. All details of delegates such as arrival/departure, assignment of Liaison Officers, allocation of hotel accommodation, vehicles and Personal Security Officer attached with the delegates were managed by Vidhan Sabha Secretariat using the software. To disseminate the information to the delegates, two temporary websites were developed by NIC and linked with the HP Vidhan Sabha website.

A Camp Office of the Lok Sabha Secretariat was set up on the ground floor of the Assembly to monitor and manage the arrangements of the Conference. 10 computers with printers were installed in the Camp Office and high speed connectivity over NICNET was extended. A Cyber Cafe was set up with 15 computers, Internet and printers for use by the participants, officials. During the Conference the agenda was made available to the delegates using the eVidhan House application. Video clips of the speeches delivered by the delegates were also provided to them in Pen Drives. Video recording of the entire conference was provided to the Lok Sabha Secretariat.
The inauguration and Hon'ble PM's address was facilitated through NIC Video Conferencing and officers from NIC Headquarters, State Centre Shimla and HP Vidhan Sabha contributed in making the event successful. Sh. Shailender Kaushal, TD and NIC HP team from State coordinated and arranged the VC facility.