Symposium on Artificial Intelligence (AI) and Internet Of Things (IOT) at Assam Administrative Staff College (AASC) on 2nd November 2021
Kavita Barkakoty, Assam
asm-kavita[at]nic[dot]in
|
Nov 15, 2021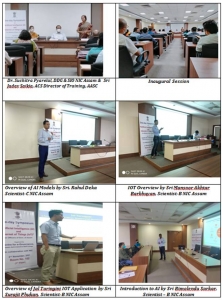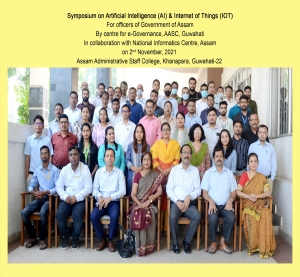 A one-day Symposium on Artificial Intelligence (AI) and Internet of Things (IOT) was held by the Centre of e-Governance, at the Assam Administrative Staff College, Government of Assam in Collaboration with National Informatics Centre, Assam. The Symposium was attended by Officers of the Government of Assam.
Sri. Jadav Saikia, ACS, Director of Training, AASC welcomed the participants and the faculty experts. An overview of AI and IOT was given by Dr. Suchitra Pyarelal, DDG and SIO NIC Assam. In her address, she explained the importance of AI and IOT and how these technologies can be leveraged in Government Sectors. Sri. Bimolendu Sarkar, Scientist-B NIC, gave insight of the AI Technologies and it uses in the Government sectors. He also shared some of the case studies of the applications already used by the Government. Sri Rahul Deka, Scientist-C explained various models and applications of the AI Systems. Sri Mansoor Akhtar Barbhuyan, Scientist-B, NIC explained IOT Technologies and gave elaborate description of applications of IOT. Sri Surajit Phukan, Scientist- B explained about the IOT application "Jal Taringini" which is a real time river water level monitoring system developed by NIC in collaboration with ASDMA.    
The symposium concluded by a vote of thanks from the Smt. Nandini Sarma, Course Director AASC.