NIC-Haryana received two Gold Awards on 01/10/2021 for best implementation of National Level Projects in Haryana
Deepak Sawant, Haryana
sawant[dot]deepak[at]nic[dot]in
|
Oct 4, 2021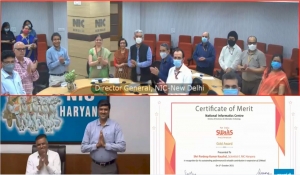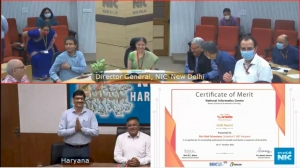 NIC Haryana has received two Gold awards for best implementation of National Level Projects in Haryana. The Director General, NIC, Ms. Neeta Verma presented the awards through virtual mode on 01/10/2021.
Sh. Pardeep Kumar Kaushal, Scientist-F, NIC Haryana received Gold award for best implementation of S3WaaS (Secure, Scalable, Sugamya Website as a Service). NIC Haryana has on-boarded all 22 District websites and has Signed an MoU with the State Government for onboarding Departmental websites of the State. 25 departmental websites of State Government have already been on boarded on S3WaaS platform and 25 more websites are in the pipeline. Haryana was one of the first states in the country to develop all District websites on S3WaaS platform and has received Platinum award for best District website in the country for District Kurukshetra website in the year 2018. Valuable contribution of S3WaaS team members from Haryana Sh. Gagan Vishal Verma, Scientist-C, Smt. Priyanka Shukla, Scientist-C and Ms. Jaganpreet Kaur Broca, Scientist-C is also appreciated.
Sh. Alok Srivastava, Scientist-F, NIC Haryana received Gold award for onboarding maximum number of Citizen Services (More than 550 service of 42 departments) on SARAL (Service Plus) platform. This framework has been used for quick development and implantation of large-scale services in cost effective manner. Speaking on the occasion, Sh. Alok Srivastava paid gratitude for the support provided by Smt. Manie Khaneja, Scientist-G, Ms. P Lakshmi Rama, Scientist-F, Sh. Adesh Chand Gupta, Scientist-F, Sh. Sreejith N.P., Scientist-D, Sh. Ashwin Ayyappan, Scientist-C, Sh. Sajjad Abid, Scientist-B and Sh. Abhas Bhardwaj from Service Plus Central team.  Valuable contribution of SARAL team members of Haryana, Sh. Sundeep Moudgil, Scientist-F, Sh. Raman Deep Kaushal, Scientist-D, Sh. Ashutosh Dwivedi, Scientist-C, Sh. Ashish, Scientist-C, and Sh. Rohit Kumar, Scientist-B is also appreciated.
Sh. D C Misra, Scientist-G, Sh. Nagesh Shastri, Scientist-G and Mrs. Alka Misra, Scientist-G were also present on this occasion along with SIO, NIC Haryana Sh. Deepak Bansal.