Assam CM launches Contactless Employment Registration Services
Kavita Barkakoty, Assam
asm-kavita[at]nic[dot]in
|
Sep 28, 2021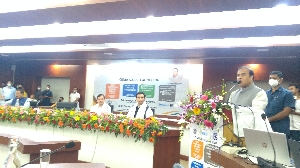 Guwahati, September 2021: The Chief Minister of Assam Dr Himanta Biswa Sarma today formally launched an online application for registration in the Assam Employment Exchange which will enable applicants to register without having to visit the employment exchanges physically. Developed by National Informatics Centre (NIC) Assam State Centre the application uses Aadhaar to validate the demographic credentials of the applicants. Shri Chandra Mohan Patowary, Minister of Transport, Skill, Employment & Entrepreneurship Development Skill, Employment & Entrepreneurship Development, etc. was also present along with senior officials of the Assam Government and NIC Assam State Centre.
The Employment Exchange Portal and Aadhar Registration Services were developed by NIC Assam Team of Shri Rubaiyat Ali, STD, Shri Tapan Gogoi, STD, Smt.Anuradha Barua, TD, Shri Gautam Choudhury TD and Sh. Rahul Deka, Scientist C.
The Aadhar based Employment Registration Services were built under the Service Plus platform. During the event, the Chief Minister thanked NIC for the quick roll out of the Aadhar based Registration services.
The Chief Minister thanked NIC for having developed the application and also cited the example of the Learner License from Home application, which was also developed by NIC. He said that about 55,000 applications have already got their Learner Licenses through the application in three weeks compared to 5,000 people in a month before. This would not only result in convenience to the citizen but also increased government revenue manifold. He also promised that he would be launching two more NIC-developed contactless applications for renewal of Driving Licenses and Duplicate Driving Licenses as Durga Puja gifts for citizens.