Hon'ble Prime Minister's Interaction with Covid Vaccine Beneficiaries and Officials of Himachal Pradesh
Ajay Singh Chahal, Himachal Pradesh
ajay[dot]chahal[at]nic[dot]in
|
Sep 15, 2021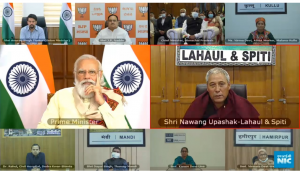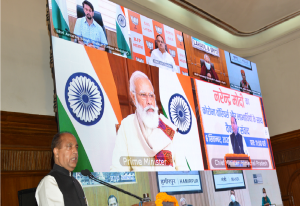 Sh. Narendra Modi, Hon'ble Prime Minister of India, interacted with the beneficiaries and Health officials of Himachal Pradesh on 6th September 2021 on achieving the hundred percent target of Covid19 vaccine vaccination. He appreciated the fact the Himachal Pradesh reached this milestone ahead of all other States despite the difficult geographical and weather conditions. Vaccine beneficiaries from Hamirpur, Lahaul and Spiti and Mandi districts interacted with the Hon'ble Prime Minister. Health officer, Asha worker and Anganwadi worker from Kullu, Shimla and Una interacted. Hon'ble Prime Minister congratulated the HP on becoming the first State to complete 100 percent vaccination target.
Sh. Jai Ram Thakur, Hon'ble Chief Minister of Himachal Pradesh welcomed Hon'ble Prime Minister and thanked him for providing sufficient quantities of Covid19 vaccine to the State so that all eligible persons could be administered the first dose in a record time. This has been possible due to production of Covid19 vaccines in the country. He appreciated that the Hon'ble Prime Minister has a special bond with the State of Himachal Pradesh and has treated Himachal as his home. He also recognized the efforts of Corona warriors of the State from Health and other Departments of the State Government who focused on zero wastage with maximum coverage. Sh. Ram Subhag Singh, Chief Secretary, Himachal Pradesh managed the Stage and a 5 minute video highlighting the efforts of the State was also screened.
Sh. Jagat Prakash Nadda, President BJP, Sh. Anurag Thakur, Hon'ble Union Minister for Sport, Information and Broadcasting, all Cabinet Ministers of Himachal Pradesh, officers of Health Department, IPR, HP DIT and NIC were present on the occasion. The live webcast of the event was made available through NIC Webcast services.
The event was organised through NIC Video Conferencing and officers from NIC PMO, Headquarters, State Centre Shimla and all District Units of Himachal Pradesh worked almost round the clock for 3 days to test the VC set-up to make it successful. The beneficiaries attended the event from their respective District NIC Units due to availability of NIC officers and NICNET connectivity. Sh. Shailender Kaushal, TD coordinated the event from NIC HP.