Honble Chief Minister, Assam, reviews KRITAGYATA (Online Pension Sanction and Payment Tracking)
Kavita Barkakoty, Assam
asm-kavita[at]nic[dot]in
|
Jun 29, 2021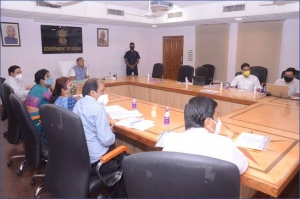 On 26th June 2021, Dr. Himanta Biswa Sarma, Hon'ble Chief Minister of Assam reviewed the activities of Pension & Public Grievances Department, Assam. During the review, Hon'ble Chief Minister also reviewed NIC developed portal  "Kritagyata", an online pension sanction and payment tracking system which aims to reach pensioners and bring them under a 'one-stop solution' digital platform.
Earlier on 1st October 2020, during pilot launching, the then Hon'ble Chief Minister of Assam Shri Sarbananda Sonowal, had flagged off Kritagyata. The objective of the Kritagyata Portal is to ensure timely and accurate payment of pensions and all retirement dues to pensioners. Pensioners can access this online system and submit their data online and after processing by Departmental officials, the pensioners  can also view & download their PPO online.
During the review meeting in his conference hall on 26th June 2021, Hon'ble Chief Minster Assam, Dr. Himanta Biswa Sarma, appreciated the online System and suggested that all other pension cases apart from superannuation should also be shifted in a phased manner to Kritagyata Portal, along with SMS Alerts and directed the Department to take necessary measures in this regard.
The Hon'ble CM was appraised that besides on-field training programmes during previous months, necessary training to the field officers were also provided during lockdown period through video conferencing. All District field offices are registered on Kritagyata Portal and altogether 700 pension cases have been processed after the trainings, out of which 367 PPO have been generated through the portal till date. The System has helped Retirees during the Pandemic situation to submit their pension papers on-line without frequent visits to the administrative offices for correction etc.
The Addl. Chief Secretary P&PG Department, Principal Secretary CM Secretariat, Commissioner & Secretary P&PG Department and Joint Secretaries were also present among the Senior Officers who attended the review meeting. During the presentation, Sri Manabendra Goswami, TD, NIC Assam, explained in detail about the various modules of Kritagyata. The meeting ended with thanks from Addl. C.S., P & PG Department.