Smart card DL/RC to be delivered at the door step by speed post. Chhattisgarh becomes first implementing state of Vahan & Sarathi faceless services
Y. V. Shreenivas Rao, Chattisgarh
yvsrao[at]nic[dot]in
|
Jun 8, 2021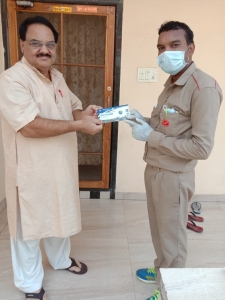 The Chhattisgarh Transport Department is going to deliver the Smart Card based Driving License (DL)and Registration Certificate (RC) to the citizens of Chhattisgarh at the address registered  by them on the Transport portal. On 1st June 2021   Hon'ble Chief Minister of Chhattisarh,  Shri Bhupesh Baghel  launched this new  facility  in  virtual mode.  The event was chaired by Mr Mohammed Akbar, Hon'ble Transport Minister of Chhattisgarh. Mr. Kamal Preet Singh, Secretary & Transport Commissioner, Mr. Deepanshu Kabra, Addl. TC and Mr. Shailabh Sahu, Asst TC (Core team members) were present at the launching site.
The Addl Transport Commissioner highlighted the salient points of the project and a two-minute beautiful and  informative video was also played depicting the entire process of door delivery system of Smart Cards.
 Later in the press conference Mr. Mohmmed Akbar, HTM exclusively thanked NIC team comprising Shri Joydeep Shome, Shri B.V.Reddy,  Dr A.K.Hota, SIO Chhattisgarh. Mr. MSV Subrahmanyam and Mr. Y.V.S. Rao for their untiring efforts in realizing the project in a short span of time.
Centralised Dispatch System :
In line with the  Government's prestigious   "Tumhar Sarkar Tumhar Dwaar" scheme which is for home delivery of government services, the Transport Department  will provide twenty two  smart card based services which include 10 driving license  and 12 vehicle related services ensuring door delivery through Speed Post.  The delivery of  DL/RC cards by speed post will be ensured within  seven  days of the dispatch.
Applicants will now have to appear only once for taking  Driving Test to obtain a new Driving License. For other subsequent services of DL/RC the Smart Cards will be directly  delivered at their address without their visiting the RTO office if they complete Adhar authentication and upload correct documents.
The  services of  Registration and License  delivering smart card based RC/DL at the door steps of the will bring  the following benefits to the vehicle owners/Applicants  of the state.
Home delivery
Helps in following Social distancing
Transparency, saving of time and money
Awareness and sensitization
Reduction of crime Benefits to the department
 Increase in Revenue
In order to ensuring  smooth implementation of the above facility the Transport department has started a Helpline number 7580808030 for citizens to enquire status  and seek help regarding delivery of RC/DL services.
Faceless services of VAHAN & SARATHI
Chhattisgarh has become the first state in the country to integrate Driving License and Registration certificate related services with Aadhaar for authentication.
Simplifying the process and linking with Aadhaar will benefit the applicants to easily avail the following services .
Medical Form to be provided online  for Driving License
Further to bring transparency into the Transport Department functionality and to simplify the process of Driving License, the issuance of Medical Certificate - Form-1(A) has also been made online. For this the interested Medical Council registered doctors of Chhattisgarh state are being provided with credentials to log into the SARATHI application. The registered doctors can use their credentials to view all the details of the DL applicants and issue the Medical Certificate Form-1(A) which can be instantly downloaded by the applicant from SARATHI portal. This process totally eliminates paper work.
THE TEAMS :
 It was altogether a coordinated and combined effort involving multiple teams of NIC, Transport department and M/s Smart Chip Ltd. The customization of Vahan & Sarathi Software applications to  enable centarlized smart card printing, activation and dispatch of RC & DL cards  was provided by the NIC New Delhi, Hyderabad and Raipur teams headed by Shri Joydeep Shome, DDG, Shri B.V.Reddy, STD  and Dr A.K.Hota, SIO, Chhatisgarh respectively. Other team members include Mr. Sanjay Mendiratta, STD, Mrs. Ragyi Singh,TD and Mrs. K.Selvi, SA of NIC New Delhi;  Mr. M.S.V. Subrahmanyam STD, Mrs. Anuragamai, STD of NIC Hydeabad  and Mr. Raghavendra Joish, STD, NIC Bengaluru; Mr. Y.V.Shreenivas Rao, STD and Mr. Amit Dewangan, SSA of NIC Raipur.