Hon'ble Chief Minister, Himachal Pradesh Launches Him Atithi Portal for Government Guest Houses
Ajay Singh Chahal, Himachal Pradesh
ajay[dot]chahal[at]nic[dot]in
|
Mar 2, 2021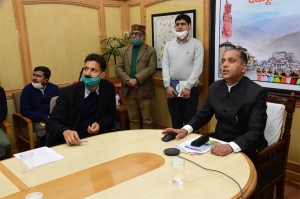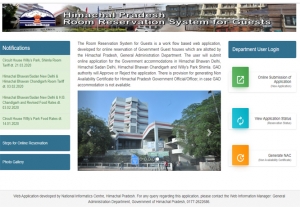 Sh. Jai Ram Thakur, Hon'ble Chief Minister, Himachal Pradesh launched the Him Atithi-Room Reservation System for online booking of Government Guest Houses on 23-February-2021 at Shimla. The portal enables Government employees and other people to apply online for booking of these Government Guest Houses at Shimla, Chandigarh and New Delhi. He expressed hope that the new system will bring transparency and fairness in the allotment system as the demand is always in excess of the available rooms at these locations. At the same time, citizens can avail of this facility from their home, in case vacancies of rooms exist.
The portal allows for online submission of booking request by officers/officials and citizens. They can view the status of their application at any point of time. The Government officials visiting these places on official tour will have the option of generating Non Availability Certificate, in case the room is not available. This is to facilitate them in getting accommodation in any other guest house or hotel for reimbursement purpose.
The software has many internal functionalities for the Departmental officials who will process the received applications based on set criteria. Room reservation confirmation/rejection status or NAC download link is intimated to the applicant through SMS and user may download the PDF file of NAC to submit in their office along with the Tour Allowance bill for reimbursement.
The software has been developed by NIC Himachal Pradesh for the General Administration Department and is hosted at https://himatithi.nic.in and also from the General Administration Department website at https://himachal.nic.in/gad