Honourable Technical Education Minister of Haryana, Shri Anil Vij inaugurated the portal of online admissions in technical courses in Haryana on 01/08/2020
Deepak Sawant, Haryana
sawant[dot]deepak[at]nic[dot]in
|
Aug 18, 2020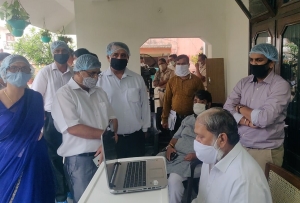 Department of Technical Education, Haryana have started the process of online admissions for the students for AICTE approved technical courses in all Govt./ Govt. aided/ Self-financing institutions in Haryana for session 2020-21.
Shri Anil Vij, Hon'ble Technical Education Minister of Haryana inaugurated the web portal https://onlinetesthry.gov.in through Google Meet on 1st August 2020 for online inviting applications, online application fee payment using PayU & HDFC payment gateway and automation of verification of application forms/ DMCs/ Certificates online through DigiLocker API.
Other web sites in the process of online admissions are:
1. https://techadmissionshry.gov.in for counselling fee payment, choices filling-up, seat allotment, fee payment, application fee payment and verification.
 
2. https://intrahstes.gov.in for verification and admission updation.
 
The web sites have been developed and implemented by National Informatics Centre (NIC), Haryana under the dynamic leadership of Shri Deepak Bansal, DDG & SIO (Haryana). The project team includes Shri Ramesh Gupta, STD & ASIO, Shri Dharampal Saini, Scientist-E and Mrs. Pooja Tyagi, Scientist-B.
Verification of DMCs/ Certificates has been made online by using DigiLocker API keeping in view the COVID-19 pandemic. During the whole process of online admissions, students need not visit anywhere. Toll free number and email addresses have been made available to handle various grievances of the students.