Release of new version of Covid Suraksha 2.0 by Honble Health Minister of Assam
Kavita Barkakoty, Assam
asm-kavita[at]nic[dot]in
|
Jun 12, 2020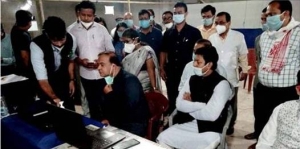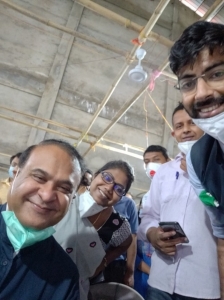 The new version of Covid Suraksha 2.0 with geo-fencing technology was launched by Sh.Himanta Biswa Sarma, Honble Minister of Health and Finance on 6th June 2020 in the presence of Deputy Commissioner Jorhat and other Senior functionaries. The app was functioning in many districts from April with monitoring of the quarantine people by the Health workers module. The following new features were added based on the request from Deputy Commissioner Jorhat.
Common platform for both home quarantine persons and health workers.
Self-Registration of citizens advised for 14 days' home quarantine.
Users can login to the app using registered credentials.
Profile and QR code section of the citizen users.
Sending of regular selfie photo update containing current location coordinates, timestamp etc.
Timely notification to remind about sending periodic selfie update.
Notification when the user exits/enters the geofence area.
Geofencing feature to send alert to the concerned authority if the home quarantine person crosses the circle of 150m from hisher home.
Monitoring of selfie photos, geofence status and user details at web dashboard.
The App was developed by Suman Boro, DIA, Hojai District, Assam and the Web application and Dashboard for the District Administration by Gautam Sharma, NIC Assam State Unit.