Haryana:- One Day Workshop-Cum-Training Programme on AuditOnline System
Deepak Sawant, Haryana
sawant[dot]deepak[at]nic[dot]in
|
Jun 12, 2020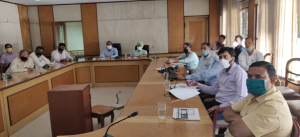 NIC Haryana and Development & Panchayats Department, Government of Haryana jointly organised a Workshop-cum-Training session on AuditOnline System on June 10, 2020 at Haryana Panchayat Bhawan, Chandigarh. Around 25 participants from Local Audit Department and Panchayat Department attended the Workshop. The objective of the session was to familiarize the senior officers and auditors of Local Audit Department of the new system.
The application has been developed as a part of Panchayat Enterprise Suite (PES) under e-panchayat Mission Mode Project (MMP) initiated by the Ministry of Panchayati Raj (MoPR). The software provides facilities to map various activities under audit to workflow processes in an online web-based solution. This system facilitates the financial audit of accounts at all the three levels of Panchayats. 
The session was chaired by Shri N.K. Jain, Joint Director and Shri Sukhmeet Singh, Nodal Officer cum Deputy Director, Local Audit Department, Haryana.
A detailed presentation on AuditOnline System was given by Sh. Suraj Arora, Scientist-E to the representatives of Local Audit Department, Haryana. This was followed by the online demonstration on the demo portal (https://auditonline.gov.in/demo). In the last, an interactive Session was held where the queries raised by the participants were duly clarified by Mr. Suraj Arora, Scientist-E and Ms. Jaganpreet Kour, Scientist-C, NIC-Haryana.