Launch of eProsecution in Uttarakhand State - A pillar under ICJS Portal
Arvind Dadhichi, Uttaranchal
ak[dot]dadhichi[at]nic[dot]in
|
Feb 25, 2020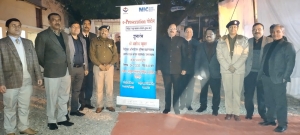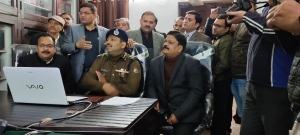 eProsecution, a pillar of ICJS Portal for Uttarakhand State was launched for Pilot District of Dehradun by Shri Ashok Kumar, D.G. Police (Law and Order), GoUK, Shri Prashant Joshi, District Judge Dehradun and Shri S.K. Sharma, Sr. Technical Director at Prosecution Office, Dehradun.
During the occasion, a presentation on eProsecution was given by NIC ICJS Project coordinator Shri Rakesh Kumar Sharma, Principal System Analyst. A few records of criminals on the portal were checked randomly by D.G. Police (Law & Order) and the instant results displayed were found satisfactory.  Further the District Judge, Dehradun enquired about witnesses examination feature of eProsecution Portal, and the NIC team present there explained things thoroughly.
After inauguration during a press briefing various queries were raised by media persons, which one by one were replied to by NIC & the Dignitaries. The D.G and District Judge highly appreciated the efforts of NIC for ICJS and eProsecution portal and informed that this will be rolled out throughout Uttarakhand shortly.
The Session was concluded with vote of thanks from Shri Hari Vinod Joshi, Additional Director Prosecution.