Hon'ble Chief Justice, High Court of Himachal Pradesh Launches HP SLSA Mobile App
Ajay Singh Chahal, Himachal Pradesh
ajay[dot]chahal[at]nic[dot]in
|
Dec 24, 2019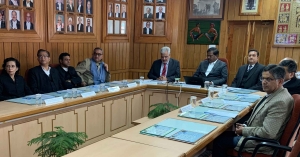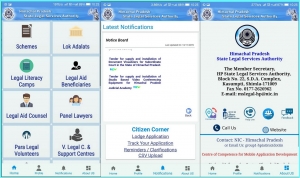 Hon'ble Mr. Justice L. Narayana Swamy, Chief Justice, High Court of Himachal Pradesh and Patron-in-Chief, HP State Legal Services Authority launched the Mobile App of HP State Legal Service Authority-HPSLSA on 16th December 2019 at Shimla for the benefit of needy litigants. The event was attended by all Judges of the HP High Court and all judicial officers in the State through Video Conferencing.
The mobile application is directly linked to the CMS based website of the HP SLSA and provides information to needy litigants on various services being provided to citizens by the National and State Legal Service Authorities. The information related to welfare schemes being executed for the benefit of citizens, Legal Literacy camps, legal aid counsels, panel of lawyers, para legal volunteers, Support Centres is available in the app. The data in the App gets automatically updated whenever any information is updated on the website.
The Mobile App is available on the Google Play Store through the official website of the HP State Legal Services Authority at https://hpslsa.nic.in and NIC's eGovernance Mobile App store at https://egovmobileapps.nic.in/
The App has been developed by NIC Himachal Pradesh. Sh. Ashwani Kumar, Scientist-D and Sh. Jitender Sharma, Scientific Officer, NIC at HP High Court were present during the launch ceremony. Sh. Jitender Sharma has developed the mobile app under the guidance of Centre of Competence for Mobile App Development, Shimla.