NCLT Project of NIC wins Digital Transformation Award 2019
Informatics News Desk, NIC-HQ
newsdesk[dot]info[at]nic[dot]in
|
Dec 4, 2019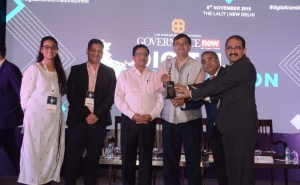 Rewarding the best projects and initiatives of the Centre and State Government to make India digitally empowered, an Awards Ceremony was held during the 3rd Digital Transformation Summit, which was organized by Governance Now at The Lalit Hotel, New Delhi on 6th November 2019.
The 'NCLT – eCourt Project' of NIC earned laurels by winning the Award in the category, "end to end Digital Services (G2G and G2C)". The Award was received by Shri Manoj Tuli, Senior Technical Director, along with a special invitee from user dept Shri Shiv Ram Bairwa, Registrar, Shri S.N. Tripathi, Director, Indian Institute of Public Administration and Shri Vinit Goenka, Member, Governing Council of CRIS; Member - IT Task Force, Ministry of Road, Transport & Highways and Shipping, Government of India.
NIC e-Courts Division developed an online portal for National Company Law Tribunal (NCLT) wherein litigants, advocates, companies, CAs, Income Tax officers etc., can file petitions/ applications/ documents/ replies under Company Act 2013 and IBC (Insolvency and Bankruptcy) Code 2016 on anywhere any time basis. This web-based system has transformed NCLT as IT effective and paper less Tribunal. It is now aligned at par with the philosophy of Digital India by facilitating efficient delivery of G2C and G2G services, providing cost-effective accessibility of information to all the stakeholders with transparency for relevant cases, online payment gateway integration for paying court fee, digitization of petition records, encouragement of Green Governance through Paperless Courts and increase in productivity with an efficient automation of front-end/ back-end workflow processes.
It is noteworthy that the applications for awards were invited from the Central Government and State Government Departments and agencies for their contribution in bringing digital transformation in the delivery of G2G, G2B and G2C services. The ceremony witnessed felicitations for projects implemented in various sectors such as Education, Health, Urban Development, Mobility, Transport, Energy, Power, Finance, Sanitation, Water harvesting, Social Care, Agriculture and Skills Development.