Content Management Framework Project of NIC wins Digital Transformation Award 2019
Shashi Kant Pandey, Delhi
sk[dot]pandey[at]nic[dot]in
|
Nov 22, 2019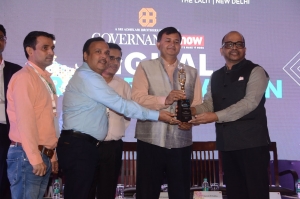 Rewarding the best projects and initiatives of the Centre and State Government to make India digitally empowered, an Awards Ceremony was held during the 3rd Digital Transformation Summit, which was organized by Governance Now at The Lalit Hotel, New Delhi on 6th November 2019.

The Content Management Framework (CMF) Project of NIC earned laurels by winning the Award in the category, "Website". The Award was received by Shri Mohan Das Viswam, Senior Technical Director, Shri Shashi Kant Pandey, Scientist-D and Shri Sunil Sunsunwal, Scientist-C from Shri S.N. Tripathi, Director, Indian Institute of Public Administration and Shri Vinit Goenka, Member, Governing Council of CRIS; Member - IT Task Force, Ministry of Road, Transport & Highways and Shipping, Government of India.

CMF was undertaken with an objective to achieve standardization and bring improvement in the presentation and content delivery of Central Government Ministries, Departments websites. Fostering the development of citizen-centric and universally accessible websites, the Project is built on open source technology and enables static websites to migrate to dynamic portals and a set of functional features. Embedded modules are also available for the websites of Ministries, Departments that adopt CMF.

It is noteworthy that the applications for awards were invited from the Central Government and State Government Departments and agencies for their contribution in bringing digital transformation in the delivery of G2G, G2B and G2C services. The ceremony witnessed felicitations for projects implemented in various sectors such as Education, Health, Urban Development, Mobility, Transport, Energy, Power, Finance, Sanitation, Water harvesting, Social Care, Agriculture and Skills Development.