DG, NIC delivered keynote address at Digital Transformation Summit 2019 in New Delhi
Shashi Kant Pandey, Delhi
sk[dot]pandey[at]nic[dot]in
|
Nov 7, 2019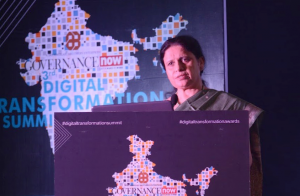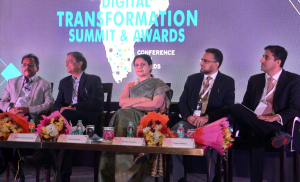 The 3rd Digital Transformation Summit was organized by Governance Now in New Delhi on 6th November 2019.  Based on the theme, "Driving a Trillion-dollar Digital Economy", the Summit witnessed deliberations on efforts and initiatives taken by the Indian Government towards transforming India into a digitally empowered nation.

Dr. Neeta Verma, Director General, NIC was the prominent speaker, along with Shri Subhash Chandra Garg, Former Economic Affairs and Power Secretary, Government of India, Shri Puneet Chawla, Chairman & Managing Director, RailTel Corporation of India Limited and Shri Rajeev Mehta, Vice President, Vodafone Idea Ltd during the inaugural session.

In her keynote address, she highlighted the use of digital technologies in the Centre, States, Panchayats and Village Bodies. "Digital technologies are influencing public and private sectors, medium and big size companies, and even startups. Every organization has some sort of digital strategy", said the DG.

Elaborating the association of NIC with the government in their digital initiatives, she talked about cloud, digital platforms and the way data & analytics have helped in building national data repositories. She said, "We had set up national cloud for the government three years ago. Various projects like Swachh Bharat Mission, National Scholarship Portal, Fertilizer Subsidy, Public Distribution System etc., are built on cloud technology. These platforms give rise to national level data. The interoperability of data between State Governments used to be a topic of discussion. All the data related issues have now been sorted out."

The DG also emphasized the need to aggregate existing platforms to build sector specific platforms in agriculture, education, health, transport etc., and concluded with underscoring the requirement of a marketplace wherein all the digital platforms could be connected to benefit all types of organizations as well as the public.