Haryana Government Conducts Pension Adalats to resolve grievances
Deepak Sawant, Haryana
sawant[dot]deepak[at]nic[dot]in
|
Sep 2, 2019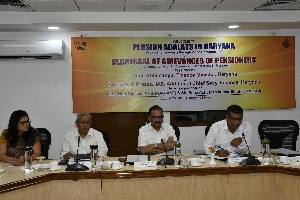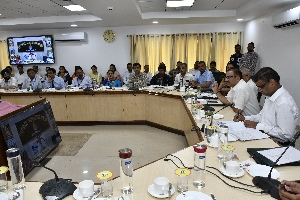 Pension Adalats were conducted by the Haryana State Government across the State on 23rd August 2019 to resolve grievances at a single platform. All the districts were connected through video conferencing.
The Pension Adalat at the State Headquarters was chaired by Shri T.V.S.N. Prasad, IAS and Additional Chief Secretary, Finance and Shri Vishal Bansal, Principal Accountant General. Officers from Finance Department, PAG, SBI Bank and State Informatics Officer, NIC, along with Shri Virender Trivedi, Technical Director, NIC, were also present. At the district level, Deputy Commissioners of the State attended the Pension Adalats, along with pensioners and Pensioner's Associations.
Shri Vishal Bansal briefed about the e-Governance initiatives taken by PAG office regarding pensions like e-PPO, communication through e-Post, grievances redressal through SARAL etc., and he categorically appreciated the efforts of NIC in implementing such initiatives and organizing such Adalats using IT infrastructure to resolve grievances at a single platform. He expressed hope that such Pension Adalats may be held regularly in co-ordination with the State Government and NIC.
Shri T.V.S.N. Prasad interacted with each district and addressed common issues raised by the pensioners and Pensioner's Associations. All Treasury Officers were directed to record the grievances of individual pensioners and resolve them within one month and prior to the next Pension Adalat scheduled to be held on 23rd September 2019.