Hon'ble IT Minister, Himachal Pradesh visits NIC HP State Centre, Shimla
Sandeep Sood, Himachal Pradesh
sood[dot]sandeep[at]nic[dot]in
|
Jun 14, 2019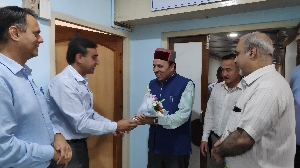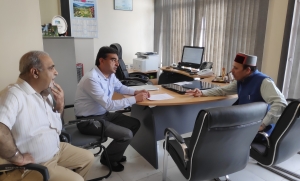 Dr. Ram Lal Markanda, Hon'ble Minister for Information Technology, Agriculture and Tribal Development, Himachal Pradesh visited NIC HP State Centre at Shimla on 13-June-2019 to discuss status of ICT activities of NIC and connectivity issues in Tribal Districts of the State. He also participated in VC organized by Union Minister of Agriculture to Review the Implementation of PM KISAN Scheme.
The SIO, NIC HP introduced the Group Heads, namely, Sh. Lalit Kapoor, Sh. Sandeep Sood, Sh. Sanjay Sharma and Sh. Shailender Kaushal, who gave brief info about their work areas. The NIC HP State Profile was given to Dr. Markanda. The Hon'ble Minister raised the issue of non-availability of NIC resource in the Spiti valley headquarters of District Lahaul and Spiti. He was informed that NIC has set up VSAT based connectivity in the Kaza sub-division, but NIC resource is available at District Headquarters of Keylong only. It was decided that NIC will move a proposal to State Government to post one resource from State Government to manage the NIC VSAT and VC activities at Kaza.
The Hon'ble Minister appreciated the work being done by NIC in the State of Himachal Pradesh with limited manpower, as all important Governance areas are being monitored in the State through NIC developed software.