Capacity building training program on MEA -eSamikSha in, Ministry of External Affairs, on 25th March, 2019
Dr. Shubhag Chand, Delhi
shubhag[at]nic[dot]in
|
Apr 2, 2019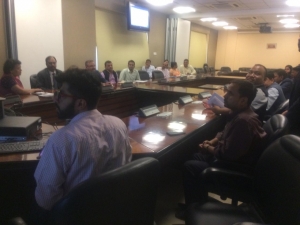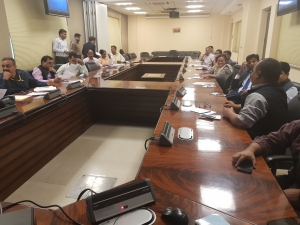 eSamikSha, an online Monitoring and Compliance Mechanism has been developed by Cabinet Secretariat Informatics Division, to fast track the compliance of pending action points, proposal, targets, etc. of Various Ministry/Department/Organization/Agency of Govt. of India and Government of States and UTs. The Portal has been designed in such a way that it will enhance efficiency, bring transparency, reduce the need of protracted correspondence and improve the communication between Government to Government (G2G).
eSamikSha was replicated for Ministry of External Affairs for monitoring of various meetings chaired by Hon'ble Minister of External Affairs & Foreign Secretary, coordination activities with the missions/post.  
 As the Ministry of External Affairs is a nodal point to deal with all aspects of International law advise to the Government of India. It also advises other Ministries/Departments of the Government of India on all matters concerning International law and conclusion and interpretation of treaties & Memorandum of Understanding (MoU), a type of agreement signed between two (bilateral) or more (multilateral) countries or group. 
Senior Officials of Ministry of External Affairs had desired to customize the eSamikSha for monitoring of MOUs, The MoU Module has been customized for MEA-eSamikSha for monitoring of MoUs signed by Ministry of External Affairs, Central Ministry/Department, State/UTs etc with other countries or group.
In this context, capacity building training program was conducted on 25th March, 2019 for the officials of Ministry of External Affairs, in 'Conference Room', Jawahar Lal Nehru Bhawan, New Delhi.   
Training session has been taken by Shri Yogesh Agarwal, Scientist 'B' of the Cabinet Secretariat Informatics Division, started  description  about MoU Module and the workflow of the module,  Training has been attended by more than 30 officials of Ministry of External Affairs & its attached offices. During the training session MoU module of MEA-eSamikSha and various roles of respective users have been explained in detail.
The session has been ended with the question & answer session and vote of thanks.