Himachal Pradesh State Portal Wins Digital India Gold Award
Sandeep Sood, Himachal Pradesh
sood[dot]sandeep[at]nic[dot]in
|
Mar 13, 2019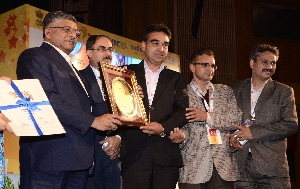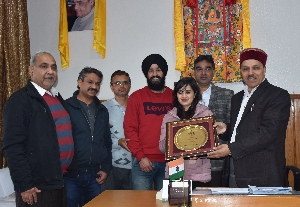 Sh. Ravi Shankar Prasad, Hon'ble Union Minister for Electronics and Information Technology, presented the Digital India Award 2018 Gold to Himachal Pradesh State Portal (accessible at https://himachal.nic.in) on 22nd February 2019 in the Digital India Awards Function at New Delhi. Sh. Ajay Sawhney, Secretary MeitY and Dr. Neeta Verma, Director General NIC were present.
Himachal Pradesh State Web Portal is one point source of information about Himachal Pradesh to Citizens and all stakeholders and links to information from diverse sources. The portal is designed as RESPONSIVE WEB and adjusts to all devices screen sizes such as Mobile Phones, Tabs, Desktop Computers etc. It is GIGW, WCAG compliant. Information on web portal has been presented and hyperlinked to various websites of State Government and organizations which covers Government of Himachal Pradesh, State Departments, Corporations, Commissions, Autonomous organizations, Districts Administrations, Raj Bhawan, Vidhan Sabha, High Court, subordinate courts. Information content on web portal has been organized in a citizen centric, user friendly, easy to browse, navigate in uniform way throughout on all pages of the portal. To keep users constantly in touch with new content being published on portal, various channels of Email, Mobile-SMS and Mobile-Apps-(uHimachal, HP-IPR) have been integrated to the Portal. The portal is bilingual.
The State web portal has been designed, developed and maintained by NIC Himachal Pradesh team led by Sh. Sanjay Sharma, Technical Director with Sh. Sarvjeet Kumar, Scientist-B. They are supported by Sh. Pardeep Singh, Ms.Amritanjali and Sh. Pawan. All Group Heads of NIC Himachal Pradesh and DIOs of NIC contribute content either directly or through the respective websites and web applications maintained by them.