Inauguration of Automation System of Seed Certification for Uttarakhand (ASSCU)
A. K. Hota, Odisha
ak[dot]hota[at]nic[dot]in
|
Mar 13, 2019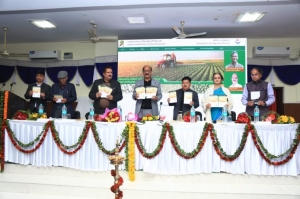 The ASSCU, an end-to-end automation system of Seed Certification process, was  inaugurated by Shri Subodh Uniyal, Hon'ble Minister of Agriculture, Government of Uttarakhand on 02nd March 2019 in Kisan Bhawan , Dehradun. Having expertise in the field of automation in seed certification, the Agriculture Automation Team of NIC, Odisha State Centre has developed this application for Uttarakhand State Seed & Organic Certification Agency (USS&OPCA) in coordination with NIC, State Centre of Uttarakhand.
Dedicating the portal to the Public, Hon'ble minister appreciated the efforts of USS&OPCA and NIC in bringing this Application Portal live within a short period of time. He also appreciated that the fraudulent registrations will be filtered out due to implementation of this automation system.
Smt. Pratibha Singh, DDG&SIO, NIC,  Odisha, addressing on the occasion,  described ASSCU as a milestone in the arena of  agriculture automation in UK. ASSCU is provisioned with both desktop & mobile versions addressing the requirements of ministerial as well as field level activities of various stakeholders catering to G2G, G2B & G2C service delivery.
Anticipating poor availability of mobile / internet network in the state, the ASSCU has been designed offline friendly so that the field functionaries can use Mobile Apps without internet at remote locations. This has been developed with MEAN stack of Open Source Technology which is BIG Data ready.
The inauguration session organized by USS&OPCA was also graced by Shri K. Narayan, DDG & SIO NIC Uttarakhand, Shri Rajendra Singh, Joint Secretary, Agriculture, UK Govt., Shri Gauri Shankar, Director of Agriculture, UK Govt., Shri K. C. Pathak, Director, USS&OPCA who were on the dais and unveiled the leaflet of ASSCU along with Hon'ble Minister.
The Agriculture Automation team from Odisha Mrs Sarita Sahoo, STD, Shri Siba Prasad Dash, TD and Shri Niladri Bihari Mohanty, Scientist-C participated in the programme along SIO, NIC, Odisha. All the team members were welcomed with bouquets and honoured with mementos by the Hon'ble Minister.
The coordinating team from NIC UK Shri D. C. Thapliyal, TD and Shri K. P. Kimothi, Scientist-B were present along with the SIO, Uttarakhand and were welcomed with bouquets and honoured with mementos by the Hon'ble Minister.  
The session was coordinated by Dr. J. S. Nayal, Dy. Director & Nodal Officer of ASSCU project with his team Shri Dharmvir Singh, SSCI and Shri Sanjay Kumar Singh, SCI with the cooperation of all stakeholders.
Among the others present on the occasion were the Officers of USS&OPCA, Seed Producing Agencies, Media Persons.  The vote of thanks was given by Dr. H. C. Sagta, Dy. Director, USS&OPCA.