Swachhta Abhiyan and Poster Competition Awards for NIC Himachal Pradesh
Sandeep Sood, Himachal Pradesh
sood[dot]sandeep[at]nic[dot]in
|
Mar 5, 2019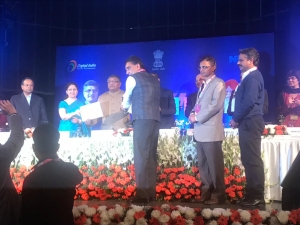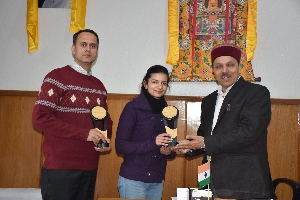 The NIC Himachal Pradesh State Centre has been ranked as the 2nd most cleanest NIC State office in country under the Swachhata Abhiyan. The award was presented by Sh. Ravi Shankar Prasad, Hon'ble Union Minister for Electronics and Information Technology to Sh. Ajay Singh Chahal, SIO NIC Himachal Pradesh, along with Sh. Sanjay Sharma and Sh. Sarvjeet Kumar on 21st February 2019 in the VIVID Conference held at New Delhi.
Ms. Aditi Thakur, FMS resource working with NIC HP at Shimla won the First Prize in the country in the NIC FMS Poster Competition held during the Swachhata Pakhwada during 1st to 15 February 2019. She was felicitated by the Hon'ble Minister of Information Technology and Agriculture Himachal Pradesh at Shimla. Her achievement was celebrated by all NIC HP officials and FMS officials in which Districts participated through Video Conferencing.
Sh. Shailender Kaushal, Technical Director and NIC HP Welfare Officer was also felicitated for the achievement of NIC Himachal Pradesh. Lot of officers were part of the initiative, namely Sh. Lalit Kapoor, ASIO, Sh. Vimal Kumar Sharma, Infrastructure Head, Sh. Sanjay Kumar, HoD CGO Complex office of NIC and Sh. Vinay Dogra, SSA.
NIC Himachal Pradesh has also been awarded second best office in small offices category for effective implementation and promotion of Hindi in office work by the Town Official Language Implementation Committee, Shimla. All the officers and staff members of NIC Himachal Pradesh have contributed in use of Hindi in office work.