J and K - e-Challan System inaugurated by Commssioner Transport
Jit Raj, Jammu and Kashmir
jit[dot]raj[at]nic[dot]in
|
Jan 8, 2019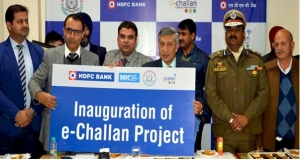 Commissioner Transport, J&K  Dr. S. P. Vaid inaugurated e-Challan Project today on 04.01.2019 which will help in improving service access and transparency in the system. Dr. Vaid said  e-Challan mobile app is integrated system linked with Vahan and Sarathi applications which cover all major functions of transport and traffic enforcement wings with number of user-friendly features. He expressed hope that the e-Challan project will bring transparency, accountability and swiftness in the existing system and provide ease of operations for transport enforcement officers and traffic policemen to increase visibility in operations. Dr Vaid said that J&K State committed to implement the e-Challan Project. He further said that connecting all the stakeholders through a common system would ensure data integrity, reliability and transparency in the traffic management.He further said that e-Challan has offerings for multiple stakeholders and State Transport department would improve their support in maintaining compliance for citizens.
Dr Vaid also hailed National Informatics Centre (NIC) J&K, State Informatics Officer SHri Abhay Kumar and Scientist "E" Rakesh Gupta, who presented power point presentation regarding features and technicalities of e-Challan mobile app and web interface. He also thanked the Vice president, HDFC Bank, Zubair Iqbal for collaborating with transport department and NIC J&K for the execution of this project. The e- facility is a comprehensive digital solution for transport enforcement wing and traffic police, delivered through Android based mobile application and a web portal.The mobile solution will provide instant access to information and ease of operation for enforcement officers and online challan payments will also ensure ease of compliance for violators.
Other Officers presented during the inaugural functions  were  IG Traffic, Alok Kumar, Additional Transport Commissioner, Aijaz Abdullah, Joint Transport Commissioner, Vikas Sharma, ARTOs of, Jammu and Kathua, Assistant Vice President HDFC Bank, AbhishekKhajuria, besides senior officers of Transport, NIC and HDFC Bank.