State Level Training on MCH Tracking system organized at Panchkula, Haryana.
Hari Chand, Haryana
harichand[at]nic[dot]in
|
Aug 30, 2010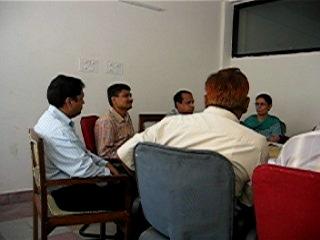 National Rural Health Mission, Haryana (NRHM), with technical support of NIC-Haryana organized a state level training for district officials in Panchkula during 23-28th August 2010. With conclusion of this training, Haryana becomes the first state for completion of State Level Training after its launch in First week of August 2010 by Ministry of Health and Family Welfare ,Government of India as part of ToT Capacity building of District official.
During the training, the participants were explained various aspects of the project and issues and query raised by participants on operations of system discussed and resolved.
MD, NRHM, Haryana Mr P.K Das IAS and Director (Adm), NRHM, Haryana Mr. Pradeep Kumar highlighted the importance of MCH tracking system and appreciated efforts of all stakeholder including NIC-Haryana for speedy roll out of system. Workload of ANMs will by reduced considerably on implementation of MCH tracking system and will bring effectiveness in implementation of various health Schemes.
All the DIOs/DIAs and State Coordinator for health and also member of State core team for implementation of MCH tracking system were present in all the training session.