Hon'ble Governor and Hon'ble Chief Minister HP Launch Ayushman Bharat in All Districts Using NIC VC
Ajay Singh Chahal, Himachal Pradesh
ajay[dot]chahal[at]nic[dot]in
|
Oct 27, 2018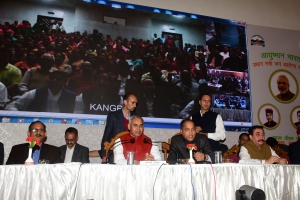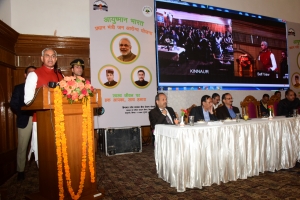 The Ayushman Bharat scheme was launched in all Districts of Himachal Pradesh by Hon'ble Governor, Acharya Devrat and Hon'ble Chief Minister, Sh. Jai Ram Thakur using NIC Video Conferencing set up, on 23-Sep-2018 from Shimla. The live webcast of the event from Ranchi was also viewed in all locations. Sh. Vipin Parmar, Hon'ble Health Minister, Sh. B.K. Aggarwal, Additional Chief Secretary Health, Director Health Services, Senior Officers of the State and SIO NIC were present.
Speaking on the occasion, Acharya Devrat, Hon'ble Governor of Himachal Pradesh, stressed the need to remain healthy, active and eat sensibly so that there is minimum requirement for medical assistance. He said that adopting a healthy life-style is very important for the well being of a nation. He interacted with the Deputy Commissioner, Kinnaur and citizens present at Rekong Peo through VC. Even though there was heavy rain, the citizens were present in large numbers at all locations.
Sh. Jai Ram Thakur interacted with the 10 Districts where the Hon'ble Ministers of State Cabinet were present along with officers and citizens. He expressed the hope that the Ayushman Bharat will benefit needy citizens of the State. During the Inaugural function, Golden cards were distributed to 3 citizens for availing benefits under the Scheme. The Hon'ble Chief Minister informed the audience that the benefit under the scheme can be taken anywhere in the country in the listed hospitals and even if the card is not available with the beneficiary at that time.
10 Cabinet Minister were present in the District Headquarters where NIC had set up VC set up using Chat 50 solution, while the LED TVs and other equipment was arranged by the Health Department and District Administration. The Deputy Commissioners were present in the Districts during the launch ceremony.
Sh. Shailender Kaushal, Technical Director, and all DIOs, ADIOs, FMS staff worked round the clock to make this VC based, large scale event, a success.