Haryana:- Visit of Bill and Melinda Gates Foundation from Seattle, Washington (USA) to Study implementation of e-PDS Reforms in Haryana
Deepak Sawant, Haryana
sawant[dot]deepak[at]nic[dot]in
|
Oct 30, 2017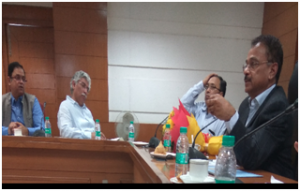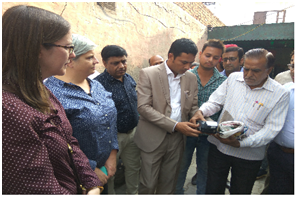 End to End Computerization of TPDS Operations in Haryana has achieved incomparable milestones in implementation of the country's largest social welfare scheme, thereby, drawing attention from across the globe. While it has become a role model for the other States in the Country to follow, delegations from across the globe are also keen to understand the trajectory followed by Haryana. In this connection a delegation from Bill and Melinda Gates Foundation (BMGF) from Seattle (USA)visited Haryana on 27/10/2017. Previous Additional Chief Secretary (FCS&CA),Sh S. S. Prasad who led the initiative during his tenure as ACS(FCS&CA) chaired the meeting of the delegation at Chandigarh and explained in detail the challenges and strategy followed by Haryana and answered the plethora of queries from the delegates. Sh. Dilip Goyal, Scientist –'F' , NIC Haryana explained  the role of NIC as a technology partner to the delegation. When asked on further reforms in PDS, NIC explained the recent initiative of SARAL of Haryana Govt to provide "Cashless, Faceless, and Paperless" services not just for PDS but also many other 350 citizen centric services. The delegation was also briefed about the strategy adopted for making Haryana "Kerosene Free" and the huge benefits reaped. Sh S.S. Prasad, ACS emphasized that for undertaking any project which touches the lives of the masses and where vested interests are involved; a strong political as well as administrative will is required.
After interacting for about two hours, the delegation was highly impressed on the usage of technology and the Aadhaar platform in the transparent delivery of benefits to the beneficiaries of the World's largest social welfare programme and its impact on transformation of society.
Later the delegation left for field visit to Ambala for understanding live implementation, where they visited one FPS "Sethi Store" at Ambala City. Live and Real-time cashless transactions were demonstrated to the delegation. The delegation also interacted with the actual beneficiaries who appreciated the Haryana Govt's initiatives. The delegation was then taken to one Godown to understand Supply Chain Management.
After having detailed understanding of the end to end operations, the delegation was very impressed and thanked the Haryana team for arranging the visit and explaining the project in minute details. On completion of the visit, the delegation left for Delhi.