ICT in Districts
Showing 186 to 188 of total 188 records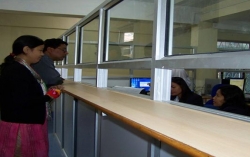 Yogesh Kumar Yadav
|
January 2010
Tirap is a small, remote and backward district, situated in the hilly State of Arunachal Pradesh in the North-East of India. It shares a long international border with Myanamar and the entire terrain is very tough, marked with high hills and deep gorges. It has been ranked amongst the most backward districts...
Vinod Kumar
|
October 2009
Hamirpur district, the Veer Bhoomi is one of the twelve districts of Himachal Pradesh. The tract is hilly covered by Shivalik range. The elevation varies from 400 meters to 1100 meters. The district is well connected by roads from all sides. Hamirpur is the most Literate district in Himachal Pradesh....
Shailesh Kr. Srivastava, Anshu Rohatgi
|
July 2009
Uttar Pradesh became the first state in the country to roll out e-District project in 6 pilot districts of the state. e-District is a State Mission Mode Project under the National e-Governance Plan (NeGP) of Ministry of Communications & IT. The project seeks to automate the complete workflow and...