Training on BhuNaksha at Nuapada District, Odisha
A. K. Hota, Odisha
ak[dot]hota[at]nic[dot]in
|
Jun 30, 2017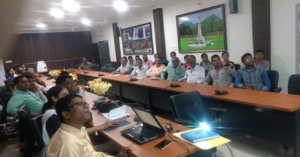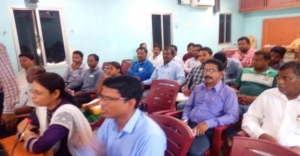 A two days training programme on BhuNaksha s/w on map correction was held on 19th and 24th June, 2017 in the Conference Hall of Collectorate, Nuapada and Conference Hall, Block office, Khariar respectively for  all the five Tahasil staffs of Nuapada District.
The Tahasildars, Addl. Tahasildars, R.I, A.R.I, Amins and Revenue supervisors of five Tahasils participated in the training programme. The training programme was inaugurated by Sri Trilochan Minz, ADM (OAS).
At the outset, the ADM briefed the participants about the importance and use of BhuNaksha s/w. Sri Simanchal Sethi, DIO gave a detailed presentation on Bhunaksha s/w and the process of map correction using point measurement method. Smt Jayshree Padhi, OAS, Tahasildar, Nuapada and Sri Anil Kumar Patnayak, OAS, Tahasildar, Khriar, the master trainers of Nuapada District, were actively involved to make the training programme a success. Sri Birendra Singh Dandasena, DeGM, Nuapada assisted during the installation of Bhunaksha software at Tahasil ends.
About 80 no. of participants attended in the two days training programme.The Master trainers gave coordinated the hands on session and participants felt that it is a user friendly software and easy to use to correct maps. The District Administration motivated all participants to make practice and advised to give feedback.
Sri Dinabandhu Pingua, ORS, Asst. Collector, Nuapada also graced the occasion.