IVFRT Regional Conference held on 10/02/2017 at Cochin, Kerala
N.K Prasad, Delhi
nk[dot]prasad[at]nic[dot]in
|
Feb 15, 2017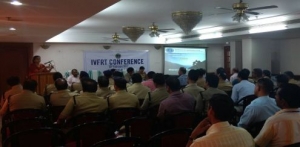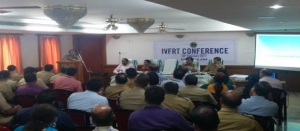 A Regional level conference on IVFRT (Immigration, Visa, Foreigners' Registration and Tracking) was organized by Bureau of Immigration (BOI) and National Informatics Centre (NIC) jointly at Government Guest House Conference Hall, Ernakulam on 10th February 2017. The implementation status of the project was reviewed and Technical/ Administrative sessions were also conducted on cFRO, cForm/ sForm, Intelligence Collection, Inspection of registered cForm users, Seaport Immigration check and coastal security.
Sh. K. Sethuraman IPS, FRRO, Cochin welcomed Dr B. Sandhya IPS, ADGP South Zone, Smt. I. B. Rani IPS, Deputy Director, SIB, Thiruvananthapuram, Sh. P. Vijayan IPS, IGP Ernakulam Range, Sh. M. P. Dinesh IPS, Commissioner of Police, Kochi City, Police Chiefs of Five Districts in South Zone, Dy. Superintendents of Police and the Officers of the Foreigners Section, Ernakulam Range and other dignitaries. He has emphasised that the project is being implemented successfully in the region and the Immigration officers are utilising the information derived effectively. He stressed the importance of the conference and the need of improvements in immigration services.
Dr. B. Sandhya IPS, ADGP, South Zone, in her inaugural address, expressed happiness for such conference where District Police Officers were able to participate. She said that it has become mandatory to file cForm. Further, she also directed officers to attain 100% target, keep watch on the social media, conduct field level enquiries if suspicion arises in respect of the activities carried out by foreigners, which will affect the security of the country.
Smt. I. B. Rani IPS, Deputy Director, SIB, Thiruvanathapuram, in her presidential address gave a detailed overview of the IVFRT project along with the mechanism applied in assimilating information from various stake holders and providing it for the security checks. She explained the use of IVFRT in tracking foreigners, prevention of the unwanted persons from entering the country, need of strengthening the security checks in all possible way for the safety of the country.
Sh. P. Vijayan IPS, IG Ernakula Ranmge while giving felicitation talk, expressed that the Kerala Police is indebted to the BOI. Being a tourist destination, management of foreign tourists is an important task in Kerala. Even though they are our guests, we should ensure the security of the nation by keeping vigilance on their activities.
Technical and Administrative sessions were conducted by officials of Bureau of Immigration, Cochin and NIC IVFRT Kerala Team. Review of the cFRO module was given by Smt. Bindu Sharma, AFRRO, Cochin and cForm/ sForm was given by Sh. Vinod Kumar K. G., AFRRO, Cochin. A session on Intelligence Collection and Immigration was given by Sh. S. K. Nair, Assistant Director/ PRO, Cochin Airport. Inspection of registered cForm users was given by Sh. A. K. Anil, Assistant Director, BOI, Cochin. Coastal Security and role of Immigration in Seaports was given by Smt. Rekha V Nair, AFRRO, Cochin Seaport. Technical presentation of the IVFRT project was given by Sh. T. A. Jojo, PSA, NIC, Cochin. In the post lunch session a panel discussion was chaired by Sh. S.K. Nair, Assistant Director/ PRO, Cochin Airport with all participants in which they have shared the experience. The conference was concluded with vote of thanks by Sh. S. K. Nair, Assistant Director/ PRO, Cochin Airport.