Certificate of appreciation and memento to Koraput for exemplary work on digital payments campaign
A. K. Hota, Odisha
ak[dot]hota[at]nic[dot]in
|
Feb 13, 2017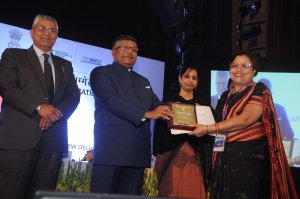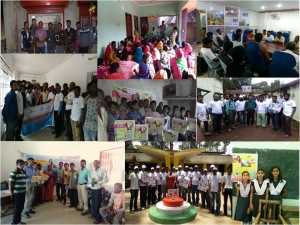 It was a proud moment for NIC, Koraput, Odisha to receive the award in the National DIO Meet for its exemplary achievement on digital payments campaign.
DIO, Koraput, Smt. Sailabala Prusty, received the certificate of appreciation with memento from Honble Minister of IT  & Comm.  and Law & Justice Shri Ravi Shankar Prasad, in presence of Minister of State, Shri P. P. Choudhury, Secretary MeiTY, Smt Aruna Sunderrajan, IAS , and  DG, NIC, Smt. Neeta Verma. 
Koraput is one of the backward districts of Odisha with lagging literacy rate, poverty and as a natural corollary to these the population of the district mostly depended on cash transactions to go about their daily chores. Hence switching on immediately to the hitherto unheard of Cashless mode sounded like a distant dream because we found the big cities crying agonisingly over the same.
Remaining at the forefront of the technology initiatives of Govt. of India for over 30 years, it was expected of NIC to deliver at the time of need. In this backdrop we at NIC Koraput sensed an opportunity to spread the awareness campaign. It was planned to educate the persons manning the Common Service Centres (CSCs) in the district, departmental officials, common citizen, students at universities / colleges etc.  on the following topics with audio-visual aids.
TOPICS COVERED FOR CASHLESS INITIATIVE
Banking Cards (Debit / Credit / Cash / Travel / Others)
Unstructured Supplementary Service Data (USSD)
AADHAR Enabled Payment System (AEPS)
Unified Payment Interface (UPI)
Mobile Wallets
Banks Pre-Paid Cards
Point of Sale Machines
Internet Banking
Mobile Banking
Micro ATMs etc.
A number of training sessions with hands-on- examples were delivered by the NIC Koraput team to clarify the doubts of the CSC personnel.
The CSC Coordinator also lent a helping hand. Hence we coaxed them, encouraged them and also they participated in an interactive way to learn the various methods. They were an enthusiastic lot and they took pride in what they were going to implement in the field. We must acknowledge thankfully their contribution for the success of the initiative.
This was the bedrock for the success of the cashless initiative in the District of Koraput which helped Koraput District NIC stand up and be counted.