Honourable Chief Minister, Odisha, Shri. Naveen Patnaik inaugurated Seed DBT Automation System developed by NIC, Odisha State Centre
A. K. Hota, Odisha
ak[dot]hota[at]nic[dot]in
|
May 19, 2016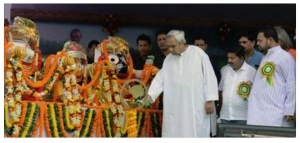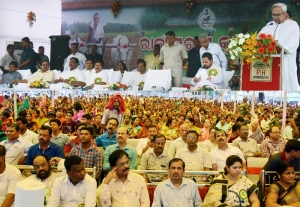 On the auspicious occasion of "Akshaya Tritiya", a festival of farmers, Honourable Chief Minister of Odisha Shri Naveen Patnaik launched 'Direct Benefit Transfer in Seed distribution' for farmers of the state. The dignitaries present in the occasion include Honourable Minister of Agriculture, other honourable Ministers as well as MLAs, top bureaucrats, Scientists from NIC etc.
The farmers can now get themselves registered online to purchase seeds and get the subsidy amount in their bank account directly under the scheme. On the occasion, Shri Ramesh Ch. Rout, a farmer of Laxminarayanpur received one bag of seed from the Honourable CM and so became the first among the beneficiaries to receive the subsidy for seeds in his bank account.
As a part of the project, a mobile app has been developed for the Dealers executing their business in rural parts of Odisha to record their sale in offline mode with option of synchronisation at the time of availability of network connectivity.
The seed DBT system starts from the generation of tag numbers which are certified by OSSOPCA (Odisha State Seed & Organic Product Certification Agency), Department of Agriculture and Farmers' Empowerment, Govt. of Odisha.
These certified tag numbers would only be visible to the Govt. Seed Suppliers like OSSC, OAIC etc.
They would distribute the subsidized seed to PACS (Primary Agricultural Cooperative Society) / LAMPS (Large Size Adivasi multi-Purpose Primary Society) and Dealers those who are registered and approved by the district authority.
The active and authorised PACS/LAMPS and dealers are eligible for distributing seed to the valid farmers at all-in-cost price (Govt. fixed price) after transacting over online system or through Mobile app.
This mobile app is based on occasionally connected architecture which enables the dealer to operate in no or minimal network accessible area. Data stored during offline mode gets synchronised whenever network connectivity is available to the system hosted at NIC State Data Centre, where it is validated against a certain set of parameters set in seed policy. The admissible subsidy is routed via the PFMS gateway to the account of beneficiary.
Even after the validation of accounts by PFMS, further de-duplication work is carried out through an automated process using a group of algorithms of Artificial Intelligence.
This Seed DBT Automation System including the mobile app, has been developed by NIC Odisha State Centre team comprising of Smt. Sarita Sahoo, Scientist-D and Shri Niladri Bihari Mohanty, Scientist-B under the guidance of Shri S. K. Panda, SIO & DDG.