Launching of e-Procurement at Paradip Port Trust (PPT), Odisha
A. K. Hota, Odisha
ak[dot]hota[at]nic[dot]in
|
Nov 4, 2013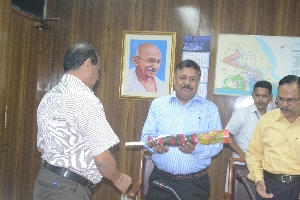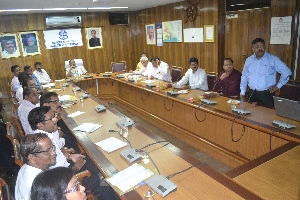 Chairman Paradip Port Trust Shri Sudhansu Sekhar Mishra, IRTS published the pilot tender of the port trust through eProcurement portal on 30th September 2013 in presence of DDG & SIO Odisha Shri S. K. Panda.
Other dignitaries present on the occasion were Shri GSS Kumar, FA & CAO, Shri A. K. De, Dy. CVO, Shri M. R. Mishra, Sr. DD (EDP), Shri S. K. Sahu, Sr. Dy. CAO and all the HODs of the port trust. NIC team comprising Shri Tapan Prakash Ray, TD and Shri Nihar Ranjan Biswal, PSA were also present to provide last minute technical support for smooth launching of the project.
Paradip Port Trust is using the common public procurement portal eprocure.gov.in/eprocure/app. PPT has decided to introduce e-tendering for all tenders above 10 lakhs for works, goods and services.
Speaking on the occasion Shri S. S. Mishra, Chairman requested NIC to work on online Technical Evaluation as well as Quality and Cost Based (QCB) Evaluation of tenders through e tendering. Shri S. K. Panda, SIO highlighted NIC's GePNIC software functionalities and assured all support to PPT for the roll out.  
The NIC team had earlier conducted a two day workshop for officers and bidders of the PPT in the month of July. It may be recalled that Visakhapatnam Port Trust was the first port trust to adopt GePNIC in the year 2011. Other port trusts using GePNIC are Mormu Gao Port Trust, Ennore Port Trust and Chennai Port Trust.