Launch of SARATHI software based Smart Card Driving Licenses (SCDL) in Etawah, Uttar Pradesh
Anshu Rohatgi, Uttar Pradesh
anshu[dot]rohatgi[at]nic[dot]in
|
Mar 5, 2013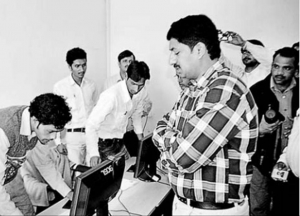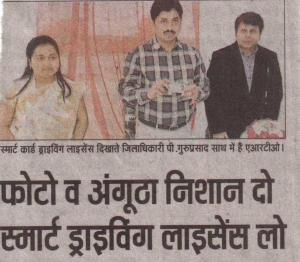 Uttar Pradesh Transport Department has decided to roll out of SARATHI software based Smart Card Driving Licenses across the State by dividing the districts in a phase wise manner starting from January 9, 2013. Etawah being in third phase was inaugurated by District Magistrate, Etawah, Shri P  Guruprasad, IAS on 26-Feb-2013. The DM visited the RTO Office to register his thumb impression and photograph to get the SMART Card based License made. He told the people and media present that the new electronic system will curb the issuance of bogus driving licenses in the district and state.
Under the new system, the driving license applicant would have to be personally present at the transport office and his biometric thumb impression, picture, digital signature will be taken. The information will be stored in a database, thus restricting the possibility of issuing another license from any other district's transport office. The database will be used for development of a state register and a national register.
ARTO, EtawahDistrict , Ms. Vandana informed that the office was equipped to issue around 500 SMART card based licenses every day and the fee per license  will be Rs.200/-. She further said that later, in case of issuance of challan and any other penalty, the details will be stored in the chip of the license for an effective action against the defaulters.