High Security Registration Plates launched in UT Chandigarh
Vivek Verma, Chandigarh
vivek[dot]verma[at]nic[dot]in
|
Mar 4, 2013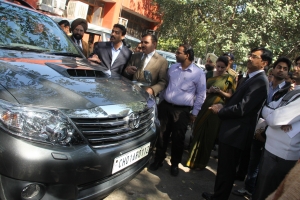 In pursuance to provisions made under section 41(6) of Motor Vehicle Act, 1988 read with Rule 50 of Central Motor Vehicle Rules, 1989 as notified by the Government of India, Ministry of Road Transport and Highways to introduce High Security Registration Plate (HSRP) System in India, Sh. Anil Kumar, IAS, Home Secretary –cum- Transport Secretary Chandigarh Administration inaugurated the affixation work of HSRP on 28th Feb 2013,  in the premises of Registering and Licensing Authority, Sector 17, Chandigarh. Also present on the occasion were Mr Kavle V. Parshuram, IAS Additional Deputy Commissioner, Ms Amandeep Kaur, SDM South, Mr Balbir Singh Dhol, Secretary STA and Mr Mahavir Kaushik, RLA.
The scheme came  into force, for new vehicles,  in UT Chandigarh from 28th Feb 2013. For already registered old vehicles,  the task of implementation of scheme shall be completed by the vehicle owners within two years from 1st March 2013. The High Security Registration Plate shall be fastened on the front and rear of the vehicle. In case of three and four wheelers, a Third Registration Plate in the form of a self destructive sticker shall be affixed on the wind shield of the vehicle. M/s REAL MAZON INDIA LIMITED, New Delhi is the only authorized firm for the installation of High Security Registration Plates on the vehicle Registered with the Registering and Licensing Authority, Chandigarh. The affixing of the High Security Registration Plates  on the vehicle shall be done within the premises of the Registration and Licensing Authority, Sector 17 U.T., Chandigarh or at the office of SDM (East) Industrial Area, Phase I, Chandigarh or SDM (South), Sector 42, Chandigarh or State Transport Authority, Sector 18,Chandigarh in the presence of the Registration and Licensing Authority or his authorized representative.
NIC Chandigarh has integrated HSRP with VAHAN,through a common workflow application,  so that the data is  automatically incorporated in HSRP module. HSRP Vendor also accesses the same application to update with the details of the HSRPs affixed.